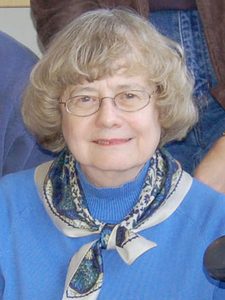 Carolyn Soule '58, age 84, died on Sunday, January 10 in Northfield. Except for two years from 1970–72, Carolyn was the administrative assistant in the English Department and the editor and manager of The Carleton Miscellany from 1963-2015 — which means she was employed by the college for 50 years.
Carolyn loved working in the department in which she had majored. She had a deep love of English literature and a high regard for the faculty and student members of her department and other colleagues. And she was much loved in return. Faculty members say that Carolyn was the heart of the department for many years. She was organized, welcoming, knowledgeable, and witty. She led new faculty through the maze of Carleton acronyms, committees, and traditions. Several student workers said she gave them the best education, teaching them how to enjoy work, do it well, and spread cheer to all around you. The Miscellany's chimney sweep icon (later called "The Imp") symbolizes well Carolyn's own "seriousness graced by wit and irony." And she had the good grace to play along when her face was pasted on "The Imp" at her retirement celebration in 2015.
Carolyn was married to Carleton English Professor George Soule, who died in 2011. An additional obituary is on the Bierman Funeral Home website.
Carolyn's family invites you to a sharing of remembrances and stories about Carolyn. The Zoom memorial will be on Saturday, February 20th, at 3pm Central Time. Please contact the Chaplain's office for the link.