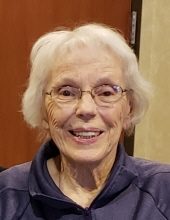 Elizabeth "Betty" Raadt, age 92, died on October 9th. Betty was a secretary in Admissions from 1947–49 and 1950–52. She worked most of her career at St. Olaf, but returned to Carleton as a food service checker for Sodexho from 1998–2002. She continued that work as a "lunch lady" at the St Dominic School. 
Always kind, lively, and engaged, Betty kept busy in retirement by volunteering, traveling, and visiting family and friends.  
A private Mass of Christian Burial will be held at the Church of St Dominic. 
A more complete obituary can be found at the Benson and Langehough Funeral Home website.