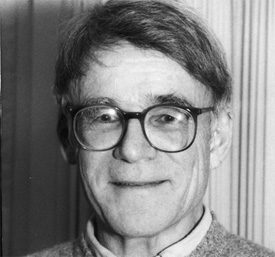 Bardwell Smith, age 97, died in Northfield on November 28. Bardwell was hired in 1960 to join Carleton's recently formed Religion Department. He retired as the John W. Nason Professor of Religion and Asian Studies, Emeritus, in 1996. He also served as the Dean of the College during a time of great change from 1967–1972 and then as the Director of Asian Studies from 1973–1977. Bardwell profoundly influenced generations of students and was a generous colleague to many who benefitted from his wise counsel, quick wit, and compassionate spirit.
Bardwell taught courses in East and South Asian religions and philosophies, with special interests in Sri Lanka and Japan. He came to Carleton as a specialist in Christian Ethics, but an assignment to teach the department's then only course in non-Western religions launched his career in Asian Studies. Bardwell steadily trained himself in Asian religions and learned Chinese, Sanskrit, and Japanese along the way. Students in his classes not only learned deeply but were inspired by his integration of the heart and mind — and kept on their toes by his playful puns. Graffiti in the Carleton tunnels proclaimed his students' views: "Bardwell Smith is a bodhisattva."
In many important ways, Bardwell shaped the college culturally. During his time as Dean, the college made some dorms "co-ed" and true to his sense of humor, the moves across campus happened on Valentine's Day weekend. Spurred in part by Bardwell, the college also committed to doubling the number of African American students. Responding to a journalist, Bardwell said, "If by integration you mean accepting black students and forcing them into the mold of white values, then no, we are not integrating Carleton. … We are trying to be part of the process in this country which is forming a new culture." ("Faculty Legends", Voice, Fall 2016)
Bardwell was also influential in promoting the growth of Buddhist studies as a field in the U.S. and globally. He was a respected scholar, editing and writing numerous volumes, including his essays about Buddhism and society in Sri Lanka which were published this past summer. He also initiated the building and maintenance of Carleton's renowned Japanese Garden.
A memorial service to celebrate Bardwell's life was held at the Skinner Memorial Chapel at Carleton College on April 15, 2023. The program from the service, including the family's obituary, is attached.