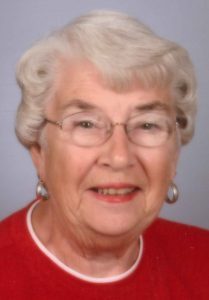 Arlene Kluver, age 89, died on Thursday, April 26th, at the Three Links Care Center here in Northfield. Arlene worked from 1965 to 1995 in the Office of Admissions, including eight years as Secretary to the Dean of Admissions. She continued to work when needed as a Sodexho checker in Burton Dining Hall for two years after her retirement.
Arlene was a beloved staff person in Admissions, known for her hard work, focus, and gracious yet matter-of-fact approach. She had a can-do attitude toward any project, coloring the workday with humorous anecdotes from her farm.
A more complete obituary can be found at the Benson & Langehough website.
A celebration of Arlene's life will be held at 2pm, Saturday, May 5th at St. Peter's Lutheran Church in Northfield. Visitation will be one hour prior to the service.