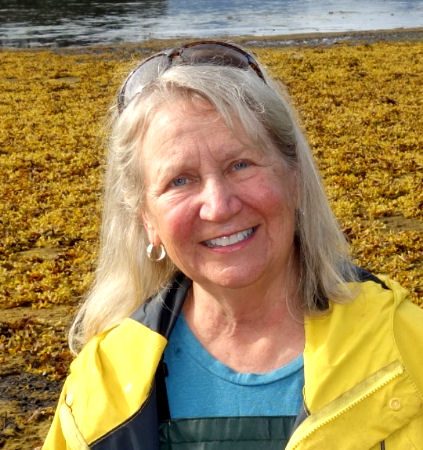 In October, the ENTS program and the Carleton community were honored to welcome Kathleen Dean Moore to our campus. Moore is a highly acclaimed author, naturalist and environmental philosopher known both for her award-winning books of nature writing and for her call to moral action against climate change and habitat destruction. She lives in Corvallis, Oregon.
During her time on campus she met with a wide range of faculty and students. She had dinner or lunch with student groups from CANOE House and Farm House and ran a creative writing workshop on nature writing.
She delivered two public presentations. The first, titled "Doing Conservation Science That Matters," consisted of a two-way conversation, via Skype, with Kathleen's son Jon Moore (a marine biologist and a Carleton alum, Class of '99) about how Jon's scientific research on Pacific salmon in British Columbia has had a direct real-world impact on larger social, cultural and economic issues in Canada. The second, a lecture and reading titled "Great Tide Rising," addressed the moral urgency of stopping a global environmental catastrophe.
Moore is committed to creating a powerful new public discourse that moves us from a solely intellectual understanding of the problem of climate change to a deeply felt moral involvement and courageous, pragmatic action. Her talk was inspiring to everyone in attendance.
Kathleen Dean Moore was a warm, engaging presence during her visit. She is a voice of moral clarity in a bewildering time. Carleton was very lucky to have the opportunity to welcome her to campus.