When we sat down with Mike Kowalewski last week, your beloved edz at the Second Laird Miscellany were simply expecting to learn about our predecessors. And learn we did. But there was yet another valuable piece of knowledge that Mike imparted unto us: the existence of the heretofore unknown film Tuscaloosa, shot on Carleton's campus in Northfield's (g)olden days. When we found out about this hidden gem, a relic dating back to well before our time (c. 2017 CE), we had no choice but to have an SLM movie night and watch. And it did not disappoint.
Set in Alabama in the 1970s, Tuscaloosa—can you guess how it got its name?—follows twentysomething Billy as he falls in love with Virginia, a patient at his father's psychiatric hospital. The film has *everything*. (No, seriously.) A semi-Gothic asylum. Racial tension. Daddy issues. Nancy from Stranger Things. Social commentary. References to the Trump era. (But, you ask, isn't this film set in the 1970s? Yes. Yes it is.)
It was undoubtedly surreal to see Carleton and Northfield on the big screen, masquerading as Alabama, no less. We played a fun game of iSpy, identifying familiar sights from our current stomping grounds. Some of our favorite cameos included the Libe and the Chapel. The film's worldbuilding was commendable, and we experienced profound, arguably disproportionate joy in seeing Canoe House Photoshopped onto the Bald Spot (oh the powers of movie magic). Alternatively, the views of Division Street and the Arb offered the slightly unwelcome reminder that we need to get out more.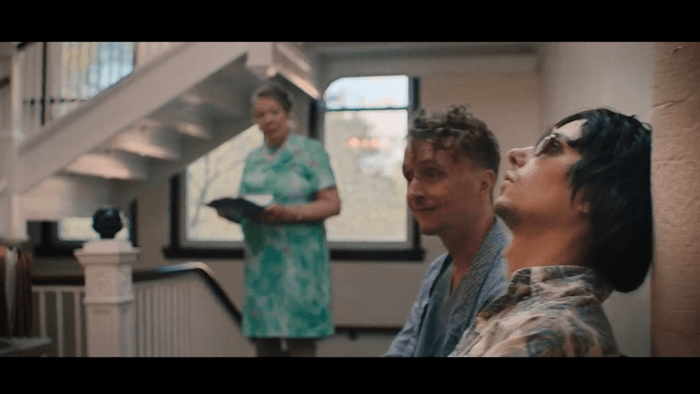 The film also allowed us to put on our English major thinking caps, as we couldn't resist some real-time analysis. We watched with the rapt attention of a professor reading an essay with a red pen in hand. We had to critique the film's two theses, tangentially related yet insufficiently connected to yield a cohesive final product. We simply did not find the relationship between the asylum and the racial politics to be particularly compelling. And yet, there were moments that compensated in abundance. (Caution: spoilers ahead.)
We delighted in quotes ripe for close readings, ones such as this beauty: "Your sorry seed has taken root in me." The film's unholy trinity of trauma forced us to create the portmanteau "lobarsabortion." We gleefully predicted the ending of the movie by identifying the obscure trope of "hospitalized woman = secret pregnancy." We questioned whether we were bad people for making light of serious topics. We proceeded anyway.
But the absolute best part? The psychiatric hospital was filmed in none other than Laird Hall, a choice that critics have praised as "astonishingly accurate" (Taratsas et al.). You can find white-clad nurses walking with patients on the sidewalk in front of the hauntingly bodacious building. The villainous doctor emerging from what is now Allie B's office. Virginia descending the Laird staircase with the coy smile of a student who just got an A on a Pierre Hecker test. Glorious, indeed.
Final thoughts: The film was entertaining. The acting was fantastic. Laird Hall was breathtaking in its award-winning performance as Unnamed Psychiatric Institution. (It is in fact rumored to be a serious contender for the 2022 Imp Award for Best Acting.) And, of course, the meme potential was simply unparalleled. After all, it wouldn't be a Miscellany movie night without memes. We meme'd with abandon, basking in screenshots galore. As our gift to humanity, we have included some of the best below.
Our final ratings:
Andriana: A- (aka a Carleton A)
Elena: C+/B-. Every Laird grade is both hurtful and indecisive.
Sophia: C ('s get degrees). It passes. I think they should have given Laird more lines.
Stream Tuscaloosa on Amazon Prime.