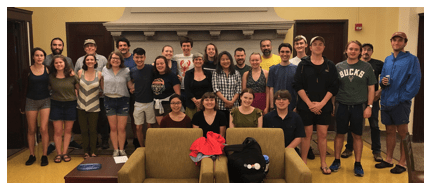 DATELINE: Bell Field (June 4, 2019)
"Blow, winds, and crack your cheeks! Rage, blow! / You cataracts and hurricanoes, spout / Till you have drenched our steeples, . . . And thou, all-shaking thunder, / Smite flat the thick rotundity o' th' world."
In other words, it was time for the English Department's annual picnic!
In a scene uncannily reminiscent of last year's inclement weather at the picnic, Northfield was treated to what meteorologist Paul Huttner called "a thunderstorm bonanza," with high gusty winds, dramatic swirling clouds and bursts of drenching rain, which forced the Department to forgo its plan to barbecue on Bell Field. Instead, plans were quickly made to barbecue above Bell Field, under an Evans Hall balcony with a sparrow's nest.
Ever adaptable, ever nimble, ever intrepid, the Department soldiered on. Department Chair Nancy Cho volunteered her Weber grill from home and the flames were soon roaring companionably under the eaves. Jessica Leiman appeared in a stylish blue trash bag from Yale. Grillmasters Chris Wortman, Tim Raylor and Jonathan Grinde took turns at the grill, roasting hot dogs, cheeseburgers and the occasional Veggie burger. Chef Extraordinaire Addison Williamson helped run freshly cooked meat from the grill up to those inside Evans Hall who had worked up an appetite playing pool and Foosball.
Chris Wortman deserves the "Golden Flipper" Award for having helped man the grill for three department picnics in a row. (There is already talk of flying him back next spring to help with the picnic.) Dependability, thy name is Wortman!
After dinner, students and faculty sang a heartfelt version of "You Are My Sunshine" (in one line of which "Comps" was rhymed with "essay prompts") to Nancy Cho. Nancy is finishing up her three-year stint as Chair and will return to civilian life in the Department this Fall. Bravo, Nancy! Mission Accomplished.
Miraculously, once the indoor celebration was over, the weather calmed, the rain stopped and the conditions on Bell Field were fine, so the Department spilled outdoors for its annual "Seniors Vs. the World" Softball game. Because the game could not be played last year because of bad weather, this was the first time in two years the Seniors have ventured to take on the World.
The Seniors had high hopes heading into the game. Anticipating this, Field General Arnab Chakladar quickly assumed his role as Heckler in Chief by announcing to the Seniors that "The World doesn't need too many against this sorry lot" and delivering the dire warning that "Official Comps results have not been posted yet." The gauntlet had clearly been thrown down.
The Seniors were itching to avenge such taunting and they batted first. With Pierre Hecker pitching for the World, Chris Wortman led off the Seniors and smacked a double into center field. Laura Smith (engaged in lively verbal combat with Arnab, who was catcher, about the position of home plate) batted next and hit a soaring fly ball into the infield, where George Shuffelton made a skillful catch for the first out. The Seniors were undaunted.
Batting left-handed, Elyse Wanzenried hit a single. Addison Williamson had a strong hit. And then, with the bases loaded, Jennifer Chan hit a double and drove in the first two runs of the game. Annie Utzschneider hit a single and was followed by Brynne Diggins and Ellie Grabowski. The Seniors finished their portion of the inning leading 2-0 and feeling good about their chances in the game. Now it was the World's turn.
Laura Smith began as pitcher, and threw several scorching fast-balls to Pierre Hecker, who was brandishing his legendary pink Shakespearean bat. Pierre hit a high ball but he flied out. "Too much sound and not enough fury," Adriana Estill noted wistfully from the sidelines. But the World's spirits were not down for long. Jonathan Grinde stepped up and immediately hit a home run for the World's first score. Then Sam Goity hit a triple that became a home run because of some inexpert Senior fielding. Power hitter Luke Webb strode to the plate and hit a . . . single. "My expectations of Luke have been dashed," Arnab cried. On the very next play, as Luke crossed home plate to score a run, Arnab declared, "I never had a moment of doubt about Luke." Maddy Birnbaum, August Lindgren-Ruby and Arnab, swinging cricket style, all helped bring in three more runs and the inning ended up with the World in front, 5-2.
For the Seniors, the second inning began in delight and ended not in wisdom but in disaster. Brynne Diggins hit a stylish single and she was followed by Julian Hast. ("Julian, I hear you still have a PE credit to finish," Arnab jeered.) Chris Wortman and Emily Bruell both gave it their best, but the Seniors couldn't notch another run and the inning ended with the score still 5-2 in favor of the World.
The World quickly found its groove and unleashed its full Offensive Firepower. First, Tim Raylor hit a creditable single, followed by Pistol Pete Balaam with a single. Then Claire Seymour got on base, as did Peter Wilson, followed by Herr Hecker (batting one-handed) and Jonathan Grinde. Momentum was building, building . . . And then the dam burst wide open and the World runs started pouring in like unruly carp into Lyman Lakes.
Tim Raylor scored first, prancing gracefully around the bases, followed by everyone else who had come up to bat. Adriana served as a designated runner for Arnab, Jonathan did the same for George Shuffelton, and when the dust settled, the World had scored 7 more runs. The Seniors were dazed and on their heels. Down 12-2 with only one out, they called a time-out to regroup. The time-out proved to be singularly ineffectual, as the World immediately scored 7 more runs.
In desperation, the Seniors tried multiple pitchers (Addison Williamson, Laura Smith, and Annie Utzschneider, pitching on both sides of the World's batters), all to no avail. When August Lindgren-Ruby brought in yet another run for the World, Pete Balaam appreciatively quoted Walt Whitman: "Am I not august?" Meanwhile, Arnab kept asking when he was allowed to ferociously charge the pitcher (or the catcher, or the ref). Miffed by the undue restraint of the rules, he said, "Alright, I'll play your stupid colonial game." When the inning finally ended, the score was 23-2 in favor of the World. (23 runs being but one shy of the all-time record of runs scored in this series.)
Chin up, the Seniors had one last chance to redeem themselves, and they went to work with determination and a new use of the tennis racquet. Addison Williamson, Elyse Wanzenreid Anne Hackman, Julian Hast and Chris Wortman all quickly helped add four runs to the Senior total. Then came one of the highlights of the game, as the World (and everyone else) watched breathlessly as Annie Utzschneider hit a single and barreled toward first base with reckless abandon, sliding, in a shower of mud and grass, into a disbelieving but similarly determined George Shuffelton, who tagged her out before receiving the full impact of Annie's dramatic arrival at First. With fingers poised over the numerals, 9-1-1, it turned out that George was okay and that Annie was . . . out. Those who were there (especially George!) will not soon forget the spectacular finish of "Annie At the Bat." The final score: The World 23, the Seniors 6.
The teams formed two lines for the traditional Good Sportsmanship hand-slap and group photos. When asked after the game what went wrong, the Seniors had plenty of post-game analysis. Elyse Wanzenreid was smilingly despondent: "We scored 6 whole points. No in-fielding. And our out-fielding was just not there." Annie Utzschneider remained undeterred: "We had more heart. If it was a wrestling match, the Seniors definitely would have won." She then added, perhaps with the memory of her slide still fresh in her mind, "and we did lose with aggression!" "Why did the World win?" one senior opined. "They cheated! They heckled!" Anne Hackman, for her part, remained philosophical about the Senior shellacking. "I'm glad the rain cleared up," she said.
And so, as the members of both teams packed up from the picnic and headed home, musing reflectively on life, mortality and what we were going to do with those extra Veggie burgers, it was once more made manifestly clear that nobody — nobody — knows how to have fun at their picnics like the English Department. While the Class of 2019 couldn't pull off a victory in this year's game, the Seniors can still hold their heads high after showing such valiant esprit de corps. They are, it is clear, fully capable of … wrestling with the World.
Your Humble Scribe,
Mike Kowalewski