Happy sixth week! Over the weekend, the editors got together and decided it was time to do something a little more on the impish side. We've just gotten back from midterm break, spring is in the air, and the flowers are blooming, so we asked the English majors to take a deep breath and dream! Specifically, we asked them to focus their imaginations on a new Laird, and though the real building won't be finished and open until June, our fantasy Laird, as renovated by the collective student mind, is now ready for you to tour.
The first thing you'll notice is that Laird looks, from the outside, exactly as it ever did. But up the steps and beyond the doors is a space that might just belie belief.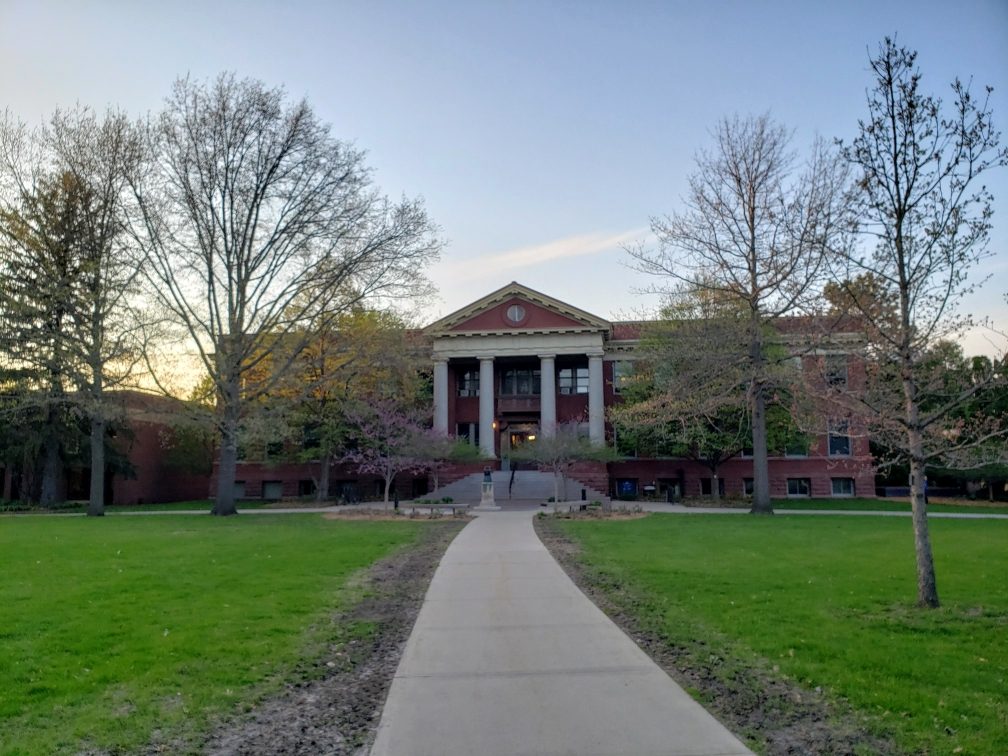 On the ground level we have an indoor garden full of plants, each one with its own label. Because this is the English department, we're a little less interested in species name, genus, and other scientific details, and more in personality, so these labels are in fact name cards; each and every succulent, shrub, and flower bears the name of a fictional character. You can decide whether the greenery agrees with its namesake as you weave past the water feature to grab a bench. Here, you can read peacefully in the dappled shade of a tree — there's no better setting for reading if you've got a green thumb. If you don't, though, never fret, the new Laird caters to any atmosphere you'd like.
Across from the garden is the new Imp Cafe. The cafe serves an endless supply and variety of elaborate coffee drinks, tea, and hot chocolate, as well as many snacks, including fresh croissants. The space is very relaxed, and there is space for people to attend open mic nights and poetry readings. The Imp has free roam of the entire building, of course, but we leave him offerings from the bakery to ensure his goodwill. The "Speaker of the Week" will also be welcome here, but more on that later.
Next, you can make your way upstairs one of two ways: via a regular staircase along a medieval castle-esque corridor (but classier, cleaner, and more well-lit), where paintings of scenes from literary classics are hung, or via a narrow and windy spiral staircase with little nooks on platforms off to the sides where you can read. The nooks are reminiscent of the mini third floor of the former Laird, complete with tiny windows.
Once upstairs, we enter the domain of academia. The classrooms have big windows, and all include armchairs or rocking chairs rather than the former boring desk chairs. The radiators still exist, despite the fact that they provide no heat, because Laird won't feel like Laird unless the Imp can disrupt class with some incredibly loud clangs. So that no one freezes to death in the winter, the "new" Laird will, in fact, resort to the tried and true method of the fireplace (and each professor will be gifted their own special fireplace poker).
Upstairs from the main department floor, we enter the English Department lounge. It includes a study room full of bookshelves that serve as a small library, a couple more (you can never have enough) cozy, ornate fireplaces, ample lamps, and plenty of comfy lounge chairs and couches. There are several reading nooks, as well as a room off to the side that is temperature-controlled, for our most special and delicate books.
You may have some concerns about the laws of science or logic as they apply to our next feature, but never fear: physics doesn't apply to Laird. With that in mind, we'd like to introduce you to the roof, which is taken up in large part by a hot-tub heated by the many fireplaces in the library below. Again, please do not trouble yourself by asking how this is possible. This heated pool will remain open at night, so you can really enjoy your star-gazing whilst planning your Shakespeare I presentation on the role of stars in his plays. However, if you'd like fun that's a bit more energetic, simply slide down the special spiral slide. It'll take you right to the basement.
The slide will deposit you in the basement with a bounce, and then you will continue bouncing, because you've made it to the bouncy castle. The reasoning here is self-explanatory: sometimes our essays just get a bit much.
But what about the students who don't want to sit amongst the plants, or get cozy in the library, and really aren't interested in getting wet on the roof? Just below the bouncy castle, those seeking a more Gothic air will find Laird's very own haunted crypt. Full of vaunted arches, whistling wind, and random cold spots, the crypt is home to a very important (though admittedly brand new) English department tradition. It's called "Ghost of the Week," and it's our speaker series. Weekly, as the name suggests, we gather together to conduct a seance, and, surrounded by appropriately guttering candles, we summon a dead author. They get to haunt our bizarre building for a week (the pastries are on us), and in return, the students get to ask them anything. It's a win-win for all, and first up will be Milton, who will, we're sure, be very interested in the hot tub.