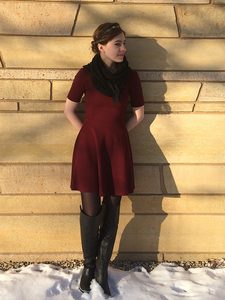 The Miscellany introduces a new feature this term – fashion profiles! We've asked our most trendy majors about their fashion choices and we've found that the inhabitants of Laird boast varied and eclectic styles. This should of course come as a surprise to no one – historically, students of English literature are known to be responsible for groundbreaking fashion trends.
This week, The Miscellany presents…Sarah Olson ('15).
Q. What are you wearing right now?
A. I'm wearing a maroon skater dress, black tights, some cozy socks, a scarf that drapes just right, and some over-the-knee boots – classic armor to survive fifth week winter blues.
Q. How would you describe your style?
A. Honestly, 90% of the time, I look like I could teach fourth grade at a slightly-posher-than-average New England elementary school – a lot of cardigans, patterned dresses, and Peter Pan collars. But I also can't get enough of sequins and glitter eyeshadow, so I guess I should settle for "over-the-top drama teacher straight out of college".
Q. What's your favorite piece of clothing and why?
A. I have this shirt that's about seven years old and goes with everything – and I do mean everything. I love versatility in my wardrobe and I could wear The Shirt with some 90s 3D-effect harem pants and make a legitimate fashion statement. The Shirt is pretty boring as far as clothing goes. It's just a white gauzy tank with some black lace here and there, but it has constantly enabled my shopping mania. Every time I think, "But what would I even wear this with?", the solution is always The Shirt.
Q. What's your favorite fashion decade?
A. 1910s morphing into the 20s, definitely. I love Edwardian fashion. If I could wear those beaded evening gowns every day without molting rhinestones everywhere I go, I absolutely would. I've spent hours trying to figure out how to sustain a pompadour. It's a problem.
Q. If you could adopt any literary character's style, who would it be and why?
A. This might be the combination of my comps and spending last winter in London, but I feel like the Duchess from The Duchess of Malfi would have some mad style. She's running from her incestuous, violent, and insane brothers and getting lucky nightly with the steward of her household, and you know she looks good doing it. For the Jacobean embroidered bodices alone, I'd have to go with the Duchess.
Q. What inspires your style?
A. I'm going to sound like a kindergartener, but I love colors. I'm what my mother calls an "excessive matcher," so my motto is if those clothes are the same color, pair them together immediately. But I also believe in mixing things up, making stuff cooperate in ways you didn't think they would. Clothes are kind of like a puzzle to me; half of the fun of caring about what you wear is figuring out how to make things you've had for five years seem brand new. Takeaways: surprise yourself, learn new things, and use colors. So maybe the main takeaway should be: I really am an elementary school teacher.