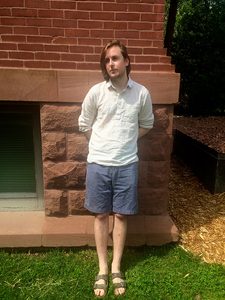 The
Miscellany
has an addition to our prestigious list of stylish majors. We've asked our most trendy majors about their fashion choices and we've found that the inhabitants of Laird boast of varied and eclectic styles. This should of course come as a surprise to no one – historically, students of English literature are known to be responsible for groundbreaking fashion trends.This week, the
Miscellany
presents … Jeremiah Moriarty
1. What are you wearing right now?
A. I'm wearing a big linen-blend shirt, the last clean pair of shorts in my closet, and my Birkenstocks. So many people at Carleton wear them, and I've definitely become a convert (so…basically I'm a sheep). I love this shirt, mostly because it makes me feel like a Renaissance pirate.
2. How would you describe your style?
A. Now that my hair has grown out, my spring style has become more laid-back. The John Lennon comparisons have been kind of inevitable, partly because I now wear sunglasses that are like his regular glasses (blue lenses instead of clear), and I've slowly become more interested in that early 70s free love look. Stevie Nicks is definitely inspiring to me – she makes you feel like it's OK to wear lots of black and look like you might be part of a coven #theSupreme. Most days I look like one of the peripheral characters from Arthur like Sue Ellen or George, but I also really adore the clothes of Edwardian England and Downtown Abbey. Seeing Keira Knightly wear that green dress in Atonement was actually one of the earliest experiences that made me conscious of clothing and what personal style could do. It made me realize that a person can create a story through what they choose to wear.
3. What's your favorite piece of clothing and why?
A. My Hanes black crew neck t-shirts. So simple and they go with everything.
4. What's your favorite fashion decade?
A. Early 90s, I think, but that's also because a lot of those menswear styles have come back into fashion. I especially love denim, and I'm a big fan of the jorts + flannel shirt wrapped around your waist look.
5. If you could adopt any literary character's style, who would it be and why?
A. I would love Sebastian Flyte's wardrobe from Brideshead Revisited. In the 2008 adaptation, he wears these beautiful matching outfits that have very androgynous cuts, and they're actually kind of amazing in how they dare to embrace a little femininity. He's also very boyish and lean, and his style has this really compelling mix of bravado and deep insecurity. I dig it.
6. What inspires your style?
A. My two sisters, time spent in Dublin, and whatever I happen to find at H&M or Buffalo Exchange in Minneapolis. I also look to my favorite musicians like Florence Welch and Matt Healy from The 1975. I would start a band just so I could be in moody promo pictures.