Ah, January in Northfield. The skies are gray. It is cold as all get-out. And the freshmen, bless their hearts, still have the untouched joy of new life. Meanwhile, the seniors trudge about, wizened and embittered hermits that we are. (I, for one, have not left my dorm in weeks, save for feasting. (But also for class and work and stuff.)) Our lives are now governed by the 3 Cs of Seniorhood: Comps, Crises, and Getting Degrees. And so we are asking ourselves one very important question.
What on EARTH am I going to do with my life?!
Now, if you are or ever have been an English major, you are probably familiar with the following scene. In my personal experience, whenever I return to my home state of Virginia, it goes something like this: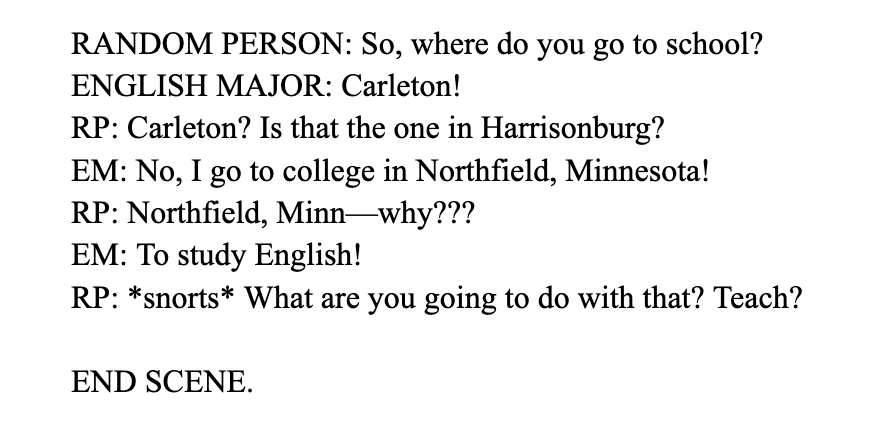 Luckily, I have the self-awareness to know that of my *many* virtues, infinite patience is unfortunately not one. While I love working with students, it is because I get to do so in small groups or, ideally, one-on-one. And so I have decided it would behoove me to consider alternate career paths. A kindly neighbor, a former English major himself, once told me that English is the degree that makes you qualified for everything and desirable for nothing. Surprisingly enough, this is not what I wanted to hear as a newly minted English major. And so it has been my life's mission ever since to prove him wrong.
In this week's post, I will show you, dear reader, all that you can, in fact, do with an English major. I have meticulously combed through alumni profiles from the past five, ten, and fifteen years, and chosen some of the most interesting, diverse, and surprising careers* to highlight. All to show that there is PLENTY that you can do with an English major, JEFF.
*I don't include names for privacy reasons. But also, this is all information available in the alumni directory, which is easy enough to access if you are a member of the Carleton community. So go nuts.
Jobs, jobs, jobs!
The English department's graduates appear to be an accomplished bunch with exceedingly diverse interests! They have gone on to graduate school. They have moved to both coasts and across the pond. They are working in publishing, nursing, law, and marketing. Here are but a few examples of the many post-Carleton paths in the Classes of 2008, 2013, and 2018:
Communications Coordinator for an arts organization
Clinical Fellow
Master of Science in Nursing
Creative Project Manager for Target
Public Policy and Government Relations Manager for Google
Senior Analyst in Admissions and Aid for a research university
Child and Adolescent Psychiatry Fellow at Mayo Clinic
Analyst for Google
Climate and Energy Policy Planner
Legal Associate
Copywriter for a marketing agency
These careers demonstrate just how much is possible with an English major. It is a department designed to teach students how to interpret communication from others and become effective communicators themselves. And there is not a single field that can survive without strong communication. For that reason, English majors have a lot to offer no matter where they end up or what they want to do.
And speaking of what they want to do, I realize that many English majors (like myself) join the department because we love to read and write, and so that is what we want to do. Even amongst careers that directly incorporate the literary core of the major, there is a lot of variety. Here are some examples of post-Carleton paths that align more with the traditional idea of literary studies:
MFA in Creative Writing
DFA in Translation
Freelance Writer/Editor/Social Media Coach
University Press Editorial Assistant
Staff Member at Milkweed Editions
Literary Agency Royalties Manager and Contracts Associate
And just to top it off—teaching is not a one-size-fits-all career either. You can teach grades K–12. You can become a professor at a higher ed institution. You can teach in public or private schools. You can tutor for a private company. You get my point. Here are some final Carleton alumni examples:
Teaching Artist
Assistant Professor
English Teacher
Lecturer at UC Berkeley
Graduate Instructor in English
Special Ed Teacher
Naturalist for an educational program
NATURALIST. How cool is that?! I mean, I personally couldn't do it, because I don't like bugs, and I think you maybe need some biology, and I'm really bad at biology. The closest I've ever gotten to entomology is reading The Metamorphosis in high school. (4/10, the bug was scary.) But if I DID like bugs, and if I DID like biology, then maybe I could be a naturalist** too!
**It is very possible that I have very little understanding about what naturalists actually do.
Of course, these are just examples from three years' worth of Carleton graduates. Other notable English department alumni include writer Bonnie Nadzam, whose novel Lamb was adapted into a film. Playwright Don Zolidis wrote The Seven Torments of Amy and Craig and also 10 Ways to Survive the Zombie Apocalypse, which I coincidentally starred in my freshman year of high school, long before Carleton was on my radar, to rave reviews from my parents. And Cheryl Klein worked as a continuity editor for the Harry Potter series. So we are certainly an accomplished bunch!
Go English majors! (And take that, JEFF.)