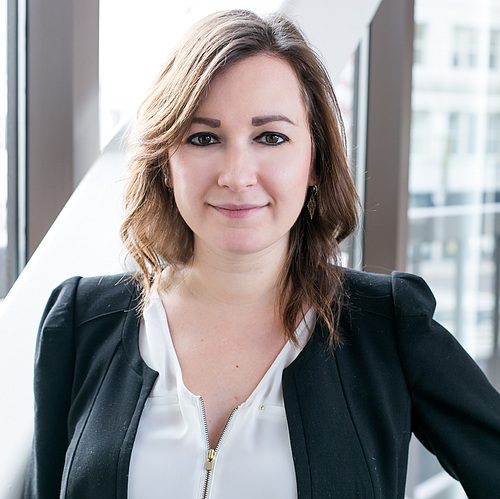 Sasha Korobova Nelson, a 2010 graduate and an English major, has some useful advice on navigating the job market after leaving Carleton, as well as careers that may not at first seem obvious, but are worth considering.
Part 1: Things I wish I knew before Graduating:
Carleton is one of the most magical places I have ever been to. It was a place where intellectual curiosity and academic rigor inspired me to pursue some of the most interesting subjects I have ever been exposed to. Unfortunately, upon graduating in 2010 to a post-Great Recession world, I discovered that my Carleton pursuits translated poorly to practical pursuits, and I found my job search to be frustrating and disheartening. Eventually, I figured out how to use my Carleton degree to my advantage, got a job, got into business school at WashU, and became a Commercial Banker at Wells Fargo. As a former English major, I never could have anticipated this career for myself. That being said, I absolutely love what I do, and have found ways to apply the skills I learned at Carleton in ways that are remarkably beneficial.

My journey here would have been easier if I had realized some things about the "real world" prior to my graduation. While a lot of these learning came from personal experience, I have heard them echoed among my peers of all majors over and over again. Therefore, I have gathered them into a list of things that I wish I knew before I graduated from Carleton.
The market has changed dramatically since the Great Recession of 2008-2009; while the market is recovering, it has not fully done so. Gone are the days when a Carl could take a "fun" job for a year or two and then just jump into a career or graduate school without personal connections. Do not expect the same opportunities awaiting you as they did alums of '99.
Carleton is not well-known outside the academic world and you are going to need to work hard to sell yourself. It may be frustrating to watch peers from big schools land jobs because of higher recruiting from their schools, but it will happen. You will need to find ways to describe Carleton in terms of academic ranking to communicate its prestige.
Graduating from Carleton doesn't guarantee you a job or a place in graduate school: you still have to do the leg work while at Carleton to get yourself to where you want to go.
While it is ok to not know what you want to do forever after Carleton, you should not wait until after graduation to explore your interests. Take time to do that while at Carleton whether through internships in the winter and summer, research with professors, etc. This is "free time" to explore that you will not get after graduation.
You may be qualified to do an entry-level job, but there is probably someone who has an Associate's degree in that field: few companies will invest in you to be a paralegal for a year while you explore your interest in law school when there are plenty of candidates with paralegal degrees that are willing to do the job as their career.
Graduate school is not a silver bullet. Just because it is the obvious place to go, doesn't mean it is the right one. Do your research — getting into law school, getting an MFA, or a graduate degree in the humanities by no means guarantees a job, and is often just a way to delay the "real world" while accumulating a lot of student loans. If a field is your passion and you can get into a top program with strong job placement, then do it. But make sure you do your research before you make an expensive and time-consuming decision.
Think about jobs in terms of the skills they require, not the titles they carry. The word "banking" was a huge turn-off for me both at Carleton and in graduate school. I had a lot of pre-conceived notions about what "banking" meant. Having worked in it for several months now, I realize that I had no real concept of what it was. Also, there are a multitude of banking jobs that all require very different skills. Banking, just like finance, marketing, entrepreneurship, etc. can offer a variety of career paths you are not currently considering.
Leveraging the Carleton network is one of the most important things you can do. You do not realize how small Carleton is until you find out how big your future friends'/colleagues' schools are. That also means that many Carleton alumni are very invested in helping other Carls. Do not hesitate to reach out to them!
The alumni are doing you a favor when you reach out to them. It may be tempting to be overly candid with Carleton alumni when reaching out to them, or think that just because they went to Carleton they are obligated to help you. This is not the case — alumni are taking time out of their busy lives to give you help/guidance/advice. Be polite, respectful, and thankful. Always err on the side of formality in all communication with them.
Let people know HOW they can help you. When you reach out to someone, do so with a purpose and do not expect them to do the work for you. If you are calling an alum, don't expect a job offer or even useful information. Prepare for the meeting/call, understand what they do, never ask for a job, but do not hesitate to ask for other connections, ask them what they would do in your place, and who else they can connect you to in their company/network. A lot of Carls want to help, but you need to let them know how.
Part 2: Careers you may not be considering, but you should:
Marketing (Brand Management)
Types of companies:
Large consumer packaged goods companies (Kimberly-Clark, General Mills, Anheuser Busch, Procter & Gamble, Tide, etc)
Skills required:
Leadership, communication/writing, team-work, problem-solving, creativity, listening, analytical skills, enthusiasm/passion for the product
Marketing (Research)
Types of companies:
Any large company with a marketing department (can be industry specific), advertising agencies
Skills required:
Market analysis, project coordination, survey conduction, future trend analysis, past performance analysis, statistics, writing/communication
Human Resources/Talent Management (Employee Benefits, Staff Training, Learning & Development, Recruitment etc)
Types of companies:
Any large company with a human resources staff (Kraft, Wells Fargo, Target, etc.)Consultancies with human resources practices or specialized consulting companies (Deloitte, Towers Watson, McKinsey, etc.)
Skills required:
Leadership, organization, multitasking, problem-solving, negotiation, communication skills, multi-tasking, conflict management, discretion/ethics, change management
Project Management/Operations
Types of companies:
Large IT companies, communication companies, healthcare companies, or organizations that implement projects either locally for clients (IBM, Emerson, ExpressScripts, etc)
Skills required:
Organization, multi-tasking, leadership, written/oral communication, negotiation, quick problem-solving, high attention to detail, technical skills (depending on the particular role), process improvement
Finance (Corporate):
Types of companies:
Any large company with a finance department (Target, Anheuser-Busch, Land-O-Lakes, Best Buy)
Skills required:
Problem-solving, communication, relationship-management, project management, sales, technical skills (often taught on the job), optimization skills, leadership, ability to work with other teams/departments
Finance (Investment Banking)
Types of companies:
Banks, especially ones with strong investment banking practices (Goldman Sachs, JPMorgan, Bank of America, etc)
Skills required:
Research, organization, presentation skills, financial model building, communication skills, analytical skills, ability to work long hours
Finance (Commercial Banking)
Types of companies:
Traditional banks (Wells Fargo, BMO Harris, Bank of America, JPMorgan)
Skills required:
Relationship management/people skills, communication skills, sales, creativity, analytical skills, leadership, organization skills, multi-tasking, follow-up
Finance (Research, Equity, Mutual Funds)
Types of companies:
Any financial services institution or bank that tracks stocks (Edward Jones, JPMorgan, etc)
Skills required:
Analytical skills, interest in the stock market, research, written communication skills, organization skills
Finance (Financial Advisor)
Types of companies:
Companies with advising/brokerage arms (Edward Jones, Wells Fargo, etc)
Skills required:
Sales skills, relationship management, written/oral communication skills, problem-solving, analytical skills
Consulting (Management, Non-Profit, Economic)
Types of companies:
Consultancies with practices in desired areas, including healthcare, non-profit, education, etc. (McKinsey & Co, BCG, IBM, Huron Consulting Group, etc)
Skills required:
Problem solving (especially unstructured problems), organization, presentation, oral/written communication skills, ability to manage conflict, teamwork, listening, desire to travel (especially for management consulting)
Part 3: Skills you are gaining as a humanities major:
Through academics:
Analyzing complex, unstructured problems
General problem-solving
Data processing
Written communication
Oral communication (through class participation)
Argument development
Organization/structured thought process
Information synthesis
Through extra-curricular activities:
Cross-functional team work
Leadership
Time/activity management