Apr
4
A Poetry Reading with Heather Dubrow and D.E. (Doug) Green
Tue, April 4, 2023 • 5:00pm - 6:00pm (1h) • Athenæum - Gould Library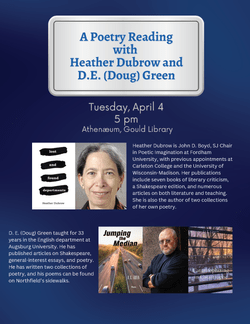 Please join us for a poetry reading with Heather Dubrow and D.E. (Doug) Green.
Heather Dubrow is John D. Boyd, SJ Chair in Poetic Imagination at Fordham University, with previous appointments at Carleton College and the University of Wisconsin-Madison. Her publications include seven books of literary criticism, a Shakespeare edition, and numerous articles on both literature and teaching. She is also the author of two collections of her own poetry, and her poems have appeared in numerous journals, such as Prairie Schooner, Southern Review, Yale Review. She was director of Fordham's Poets Out Loud reading series 2009-2020.
D. E. (Doug) Green taught for 33 years in the English department at Augsburg University. He has published articles on Shakespeare, general-interest essays, and poetry. His first collection of poetry, Jumping the Median, was published in October 2019 by Encircle Publications. The poems in Catastrophizing in Catastrophe (2023) had their genesis in a multi-year fundraiser for the Augsburg English department. Imitating the Renaissance practice of writing for patrons, Green honored donors by writing poems in various forms. His poems can also be found on Northfield's sidewalks.