May
6
Spring Term Theater Production: Much Ado About Nothing
Sat, May 6, 2023 • 2:00pm - 4:00pm (2h) • Weitz Theater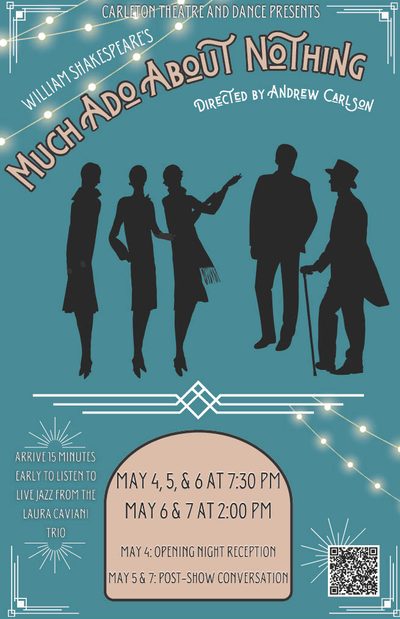 When the men return from war to visit the home of Leonata, the young hero Claudio is immediately smitten with Leonata's daughter, Hero.  Meanwhile the fiery Benedick and Beatrice reignite their "merry war" of words, rekindling the conflicted passions of their unresolved past. Set in the 1920s, this production features live music from the Laura Caviani trio that transports the audience to another time. But as villainy thwarts the plans of romantic union, Beatrice and  Benedick are left to grapple with a question true for all times: What am I willing to sacrifice for love?
Come fifteen minutes early to listen to live jazz from the Laura Caviani trio!
Click here for ticket reservation information!
from Theater & Dance