About the trademark "chimney sweep" figure, later called "The Imp" by Carleton students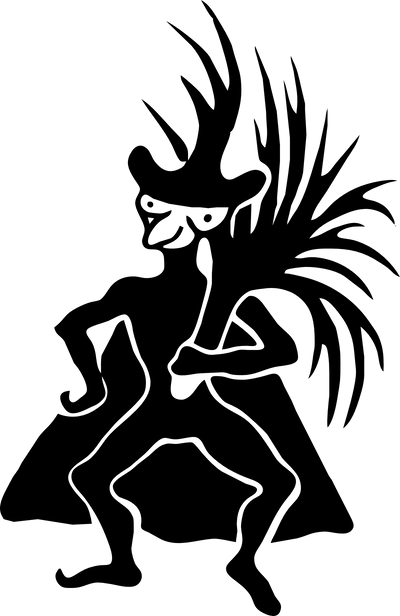 Our mischievous chimney sweep was designed by Irwin Touster for the magazine Furioso, co-founded by James Angleton and Reed Whittemore while Yale undergraduates, and which appeared between 1939 and 1953. The icon represented Whittemore's commitment to sweeping away pretentiousness, pomposity, and cant, and all those things that threatened his vision of true style, which, as Carolyn Soule (former English Department Administrative Assistant), observed, involved "seriousness graced by wit and irony."
Furioso folded, but Whittemore, who taught at Carleton from 1947 to 1966, established its intellectual successor, The Carleton Miscellany, which became a nationally-acclaimed literary magazine published quarterly at Carleton from 1960 until 1980. It became known for including a wide array of genres and for its distinctive combination of social commentary and literate whimsy.
Carolyn Soule, Managing Editor of the Miscellany from Fall 1963 to 1980, wrote that "the chimney sweep came out of retirement in 1993, when the English Department began to sponsor a student-edited weekly newsletter. This was named the Second Laird Miscellany to link it, in a sentimental way, to the magazine which was no longer being published. The chimney-sweep icon came along with the name, and since . . . the students didn't know its history, it became known as The Imp."
Whatever we call it, the icon continues to stand guard over the department, enjoining us to sweep away pomposity and pretentiousness, and reminding us not to take ourselves too seriously.