The 2024 Impact Fellowship Competition Info Session will be held on Thursday, September 28, 2023, Noon-1pm, Willis 204. Attend to learn how you can compete for a $10,000 fellowship to support a venture of your own design. Both for-profit and social venture proposals are welcome! Lunch served. RSVP here.
Contact Professor Nathan Grawe (@ngrawe) with any questions.
—
Additional information about Carleton's 2024 Impact Fellowship Competition may be found on the Career Center's webpage.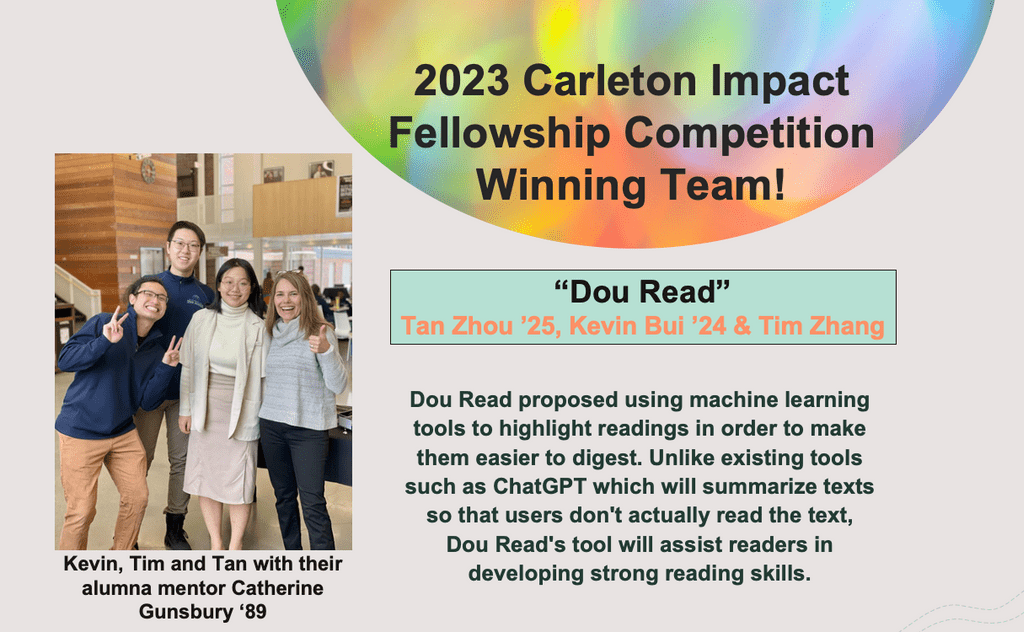 The Impact Fellowship Competition team pitches and reception were held on Saturday, February 4, 2023. Teams of students once again competed for the $10,000 fellowship to support their entrepreneurial ventures! The six student teams who competed were:
CheckMate – Sam Zacks '25, Asher Stolberg '25 and Zach Gordon '25
Mini Crosswords Unlimited – Billy Bratton '25, Isaac Van Orman '25 and Clay Haddock '24
Flyer – Kyosuke Imai '23 and Ayman Rahadian '23
Dou Read – Tan Zhou '25, Kevin Bui '24 and Tim Zhang (winning team)
Petner – Hank Zhao '25, Austin Zhang '26, Ray Wu and Bill Qin
Northfield Biggabed – Chuck Sweat '24, Kevin Tran '25 and Brandon Ekow Anderson '26
___