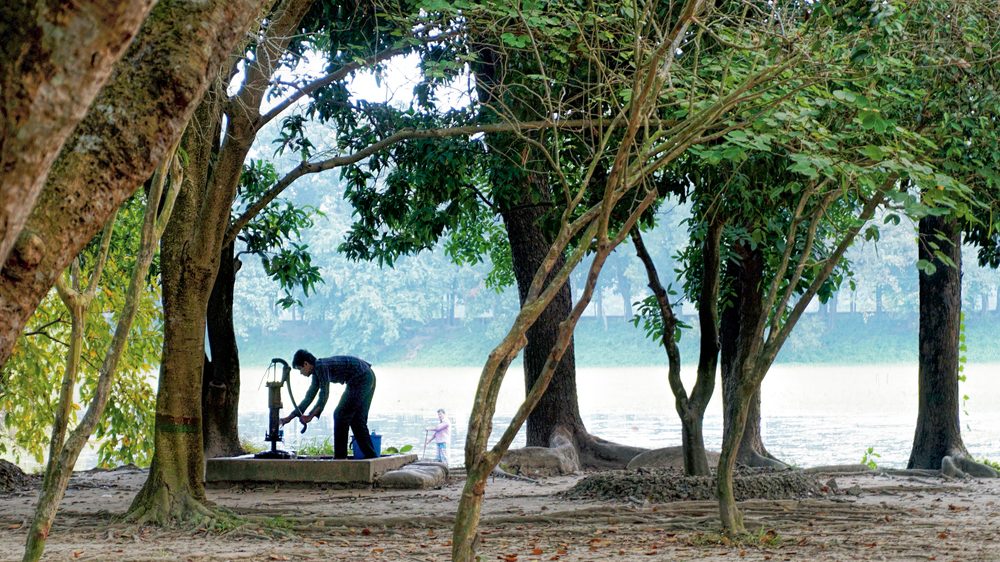 After Cyclone Amphan ravaged Bangladesh in May, killing 26 people and causing millions to evacuate, Carleton economics professor Muhammad Faress Bhuiyan felt compelled to send the people of his homeland financial assistance. Knowing that many aid organizations had high administrative costs, too often leaving less money to help crisis survivors, he wanted to ensure that whatever contributions he made would have maximum impact.
Researching the efficacy of nongovernmental organizations (NGOs) working in the region by himself proved challenging, however, so Bhuiyan recruited six Carleton students to assist him with gathering information, setting up a website, and soliciting donations. The outcome was Nourish Bangladesh, a microsized nonprofit that raises funds and examines the impact of NGOs that are focused on alleviating hunger.
As of early October, the group had raised more than $45,000 in contributions from benefactors in the United States, Canada, the United Kingdom, and Australia and dispersed the money to eight vetted organizations. "I've never fund-raised in my life," Bhuiyan says. "But I decided if I was going to ask people for money and ask my students to help, we were going to do it right."
Bhuiyan hopes the project will inspire and inform similar initiatives around the globe. A questionnaire that Nourish Bangladesh submitted to NGOs—which helped determine both effectiveness and overhead costs—was designed to be easily adapted for other countries in crisis. And the group painstakingly documented the processes it created for navigating the legal and tax-related hurdles that emerge in setting up a multicountry nonprofit. "Now we have a template we can share with other fund-raisers when the next crisis occurs," Bhuiyan says.
Rebecca Chen '22, who traveled to South Asia with Bhuiyan during the 2020 winter term to participate in the Off-Campus Studies program "Microeconomic Development in Bangladesh," joined the fledgling volunteer project because she wanted to stay connected to the area. "What's been eye-opening to me is how a little money can have a big effect," she says. "A dollar goes much farther in Bangladesh than it does in the United States."
Jack Brown '22, who was part of the same OCS program and now works with Nourish Bangladesh, is similarly motivated. "I feel like I'm making a tangible difference in people's lives," he says.