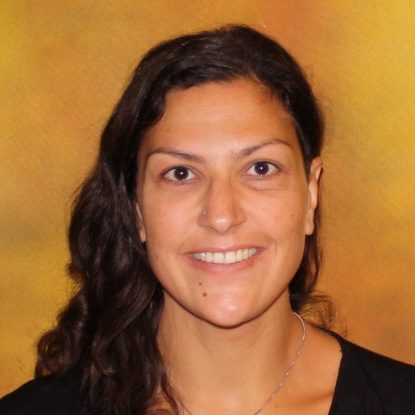 Sandra Rousseau
---
Education & Professional History
Pennsylvania State University, MA, PhD
Sandra Rousseau (Ph.D. Pennsylvania State University) teaches courses in contemporary French and Francophone culture, history, and memory. She has developed classes focused on visual media, pop culture, and more particularly on bandes dessinées. Her research interests include stand-up comedy as memory, humor and trauma, politics and ethics, and contemporary French pop culture. Her current project investigates the intersection of humor and memory in the context of Franco-Algerian relations. In her classes Sandra has set up timeline projects and collaborations with St Olaf.
She has recently published articles on francophone stand-up, on Algerian cartoons and censorship, and on Graphic novelist Nawel Louerrad.
Sandra is interested in supporting all students on campus and loves to welcome you to her office for an intellectual or a casual chat.
When she is not reading or writing, she is cooking for friends while listening to her favorite podcast: Remède à la mélancolie. 
Courses Taught This Year
FREN 244: Contemporary France and Humor 

(Fall 2020)

FREN 100: Balloons and Cultures: Graphic Novels of the French Speaking World 

(Fall 2020)

FREN 206: Contemporary French and Francophone Culture 

(Winter 2021)

FREN 350: Middle East and French Connection 

(Winter 2021)
---
At Carleton since 2015.
Highlights & Recent Activity
Rousseau, Sandra. "Ali Dilem: Artivisme Algérien et Mémoire Comique". International Journal of Francophone Studies 23.1-2 (2020): 9-29.
Rousseau, Sandra. "Layering Memories: Frank Chiche's Je Vous Ai Compris (2012)." French Cultural Studies, vol. 32, no. 1, Feb. 2021, pp. 55–65.
Rousseau, Sandra. "Coquelicots et piano: Le Moyen-Orient revendique la marge." Nouvelles Études Francophones, vol. 34 no. 1, 2019, p. 11-24. 


Organizations & Scholarly Affiliations
H-France
SFHS
WSFH
Current Courses
Fall 2022

FREN 100:

Balloons and Cultures: Graphic Novels of the French Speaking World

FREN 101:

Elementary French

FREN 380:

Comics: Sequence with Consequence