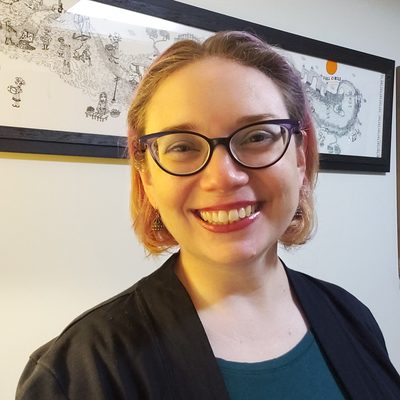 Sarah Calhoun '01
Reference & Instruction Librarian for Humanities and Digital Scholarship,
Gould Library
---
My work at Carleton:
I work in the Library as the R&I Liaison Librarian for Humanities and Digital Scholarship. As part of that, I help students navigate the library, and find primary and secondary sources for class papers, comps, or independent projects. Come say hi when I'm sitting at the Research/IT Desk or I'm in my office!
I also supervise the Digital Humanities Associates and the Digital Scholarship Interns, and work closely with many other groups around campus and at St. Olaf to help support digital scholarship work. The thing that most excites me about digital scholarship is its potential for improving accessibility of scholarship, both in terms of reaching scholars with disabilities but also helping to cross language and writing system barriers.
Education:
UW-Madison, MA '11 (Library and Information Studies – multi-lingual computing and digital humanities)
UW-Madison, MA '06 (Languages and Cultures of Asia – history of Thai and Sri Lankan Theravada Buddhist literature)
Carleton College, BA '01 (Religion – Buddhism)
Languages studied:
French, Russian, Sanskrit, Pali, Sinhala, Thai, Hindi
(I've actually been working at Carleton since 2016)
---
At Carleton since 2000.