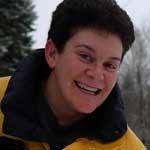 Stacy Beckwith
---
Education & Professional History
University of Toronto, BA; University of Minnesota, MA, PhD
Stacy Beckwith teaches Hebrew language courses from elementary through intermediate, as well as courses in translation on Israeli and Palestinian literature and film, and on broader Jewish history through collective memory. She primarily researches how medieval and early modern Iberian Jews and Catholic converts appear in historical fiction written in Spain today. Her edited volume, Charting Memory: Recalling Medieval Spain (2000), examines modern Jewish, Arab, and Hispanic memories of multicultural Iberia, as expressed in ongoing traditions of music, poetry, prayer, architecture, and name giving. Stacy has also published in such volumes as Religious Perspectives in Modern Muslim and Jewish Literatures (Routledge, 2006), Sephardism: Jewish Spanish History in the Modern Literary Imagination (Stanford University Press, 2012), and Spain, The Second World War, and the Holocaust: History and Representation. (University of Toronto Press, 2020).
Affiliations:
Genealogías de Sefarad (Genealogies of Sepharad – historic Jewish Spain) research and working group, ALCES XXI (Association for 21st Century Spanish Literature and Film), ACLA (American Comparative Literature Association), AJS (Association for Jewish Studies), AIS (Association for Israel Studies), MLA (Modern Language Association (Sephardic Studies Forum Executive Committee Member 2005-2008, Hebrew Forum Executive Committee Member 2009-2013), MSA (Memory Studies Association).
From a seminar that Stacy convened in 2015 she helped establish an international working group that includes scholars, authors, and Sephardic (Spanish Jewish) descendants in some wider professions from the U.S., Canada, Spain, and Israel. 'Genealogías' or 'Genealogies' of Sepharad means that we study manifestations of historic Jewish Spain in modern Spanish culture, or how Spain has engaged since the 19th century with medieval and early modern Iberian Jews through historical fiction, historiography, art, music, theater, film, tourism, commercialism and the preservation of once Jewish spaces in the old sections of Spanish towns and cities. Also included in our focus are Jews in Spain today and the country's modern and contemporary connections with the Sephardic diaspora around the Mediterranean, in Northern Europe, and in the Americas.
---
At Carleton since 1999.
Current Courses
Fall 2022

CCST 100:

Cross Cultural Perspectives on Israeli and Palestinian Identity

HEBR 101:

Elementary Modern Hebrew

Winter 2023

HEBR 102:

Elementary Modern Hebrew

MELA 230:

Jewish Collective Memory

Spring 2023

HEBR 103:

Elementary Modern Hebrew