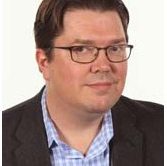 Paul Bernhardt
---
Education & Professional History
B.A. magna cum laude, 2001, University of Minnesota. Anthropology.
I am the Audio and Video Technical Director of the Weitz Center for Creativity, in the Office of the Director of the Arts. Chief in my portfolio is serving as Technical Director in Cinema and Media Studies. I'm often involved in designing and installing media installations throughout the Weitz. One of my own works, "Quotes," has been on display in Weitz Commons since 2012.
I manage two video studios (Studio A and Studio B) as well as the Weitz Audio Recording Studio, all located on the lower level of the building. The audio recording studio is a campus-wide resource. Any current student, staff, or faculty member who completes the orientation is welcome to reserve the Weitz Audio Recording Studio.
I manage the technical aspect of the movie-going experience in Weitz Cinema. I've also created an online orientation for cinema projectionists–please email me for details.
I manage the Production Office (located in 139 Weitz), where students currently enrolled in Cinema and Media Studies production classes reserve, pick up, and return equipment. By tradition, third Saturday of Winter and Spring terms, my amazing team of student workers, the CAMS Educational Associate and I put on CAMS' Comps Symposium as an event.
I'm always happy to discuss media, technology, and the arts.
---
At Carleton since 2011.
Highlights & Recent Activity
Created and taught sequence of editing with Final Cut Pro classes at Independent Filmmaker Project-Minnesota (now Film North) 2001–2012.
My work as a filmmaker has been seen on Twin Cities Public Television (tpt), at the Walker Art Center and Minneapolis Institute of Art, as well as at Minneapolis/St Paul International Film Festival, and other festivals.
Organizations & Scholarly Affiliations
member: Consortium of College and University Media Centers, Midwest College and University Audio Visual Group, Minnesota Safety Council, and Society of Motion Picture and Television Engineers