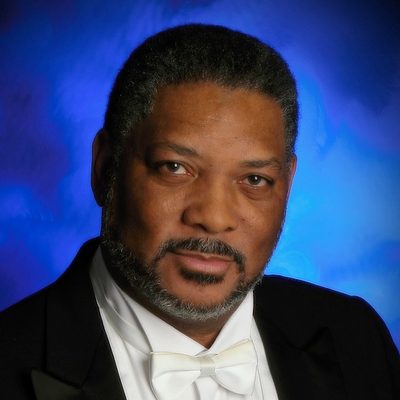 Lawrence Burnett
Professor of Music and Choral Director, Emeritus,
Music
---
Education & Professional History
Texas A & I University, BMus (Instrumental and Vocal Music Education, K-12), 1973
Eastern New Mexico University, MMus (Choral Conducting, Vocal Performance and Pedagogy), 1982
University of Texas – Austin, DMA (Choral Conducting), 1987
Professor Burnett received the Bachelor of Music degree in vocal music education from Texas A & I University, the Master of Music degree in choral conducting, vocal pedagogy, and vocal performance from Eastern New Mexico University, and the Doctor of Musical Arts degree in choral conducting from The University of Texas at Austin.
Dr. Burnett has performed extensively as a soloist in recitals, oratorios, musicals and operas with professional orchestras from Texas, New Mexico and New York, in addition to a rigorous schedule as an educator. His teaching experience spans more than thirty years in public schools and colleges, and he has served as guest conductor, clinician and adjudicator for numerous choral festivals, honor choirs, choral and solo competitions, and workshops in the United States and Canada.
Before joining the Carleton faculty in 1993, Dr. Burnett taught for five years at Potsdam College of the State University of New York in the Crane School of Music. In 1992, he was presented the first Governor's Award for African-Americans of Distinction in New York State for his "service, civic participation and selfless dedication to the Northern New York community." Since leaving New York, he has been invited to return to conduct regional and state honor choirs including the 1993 All-State Women's Choir. And, from 1995 to 1999, he served as Artistic Director of the New York State Summer School of the Arts—School of Choral Studies, a program sponsored by the New York Education Department and the New York State School Music Association.
Dr. Burnett is a member of Phi Kappa Lambda, Phi Mu Alpha Music Fraternity of America (for which he served on the Centennial Songbook Committee), the National Association of Negro Musicians, Inc., the Gospel Music Workshop of America, the Center for Black Music Research, the College Music Society, the National Association for Music Education, the International Federation for Choral Music, Chorus America!, and the American Choral Directors Association. As an active member of ACDA, between 1988 and 2007, he served as state, regional and national chair of the Repertoire & Standards Committee on Ethnic and Multicultural Perspectives.
Dr. Burnett is actively engaged in researching the histories of arrangers, composers, conductors and performers who have kept alive the styles and traditions of African-American spirituals through public performances and recordings. Recently, he was awarded a grant from the Andrew W. Mellon Foundation to support the creation and development of a website to serve as a primary aid for the study and performance of spirituals, hymns, gospel music and other significant published and unpublished choral compositions by African Americans.
Organizations & Scholarly Affiliations
American Choral Directors Association

Minnesota Choral Directors Association

Music Educators National Conference

Minnesota Music Educators Association

National Association of Teachers of Singing

College Music Society

National Association of Negro Musicians, Inc.

Gospel Music Workshop of America

Phi Mu Alpha Sinfonia Fraternity of America

Honor Society of Phi Kappa Lambda

Honor Society of Phi Kappa Phi