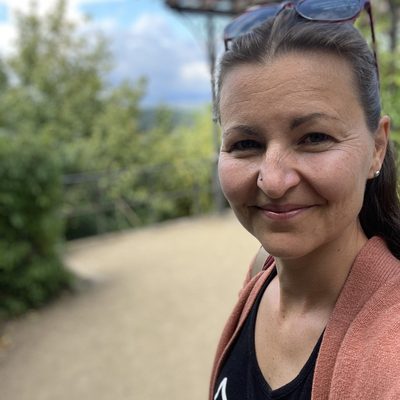 Juliane Schicker
Associate Professor of German,
German and Russian
---
Education & Professional History
Otto-von-Guericke-University Magdeburg (Germany), First State Exam; Texas Tech University, MA; Pennsylvania State University, PhD
I grew up in East Germany (when it was still the German Democratic Republic) and earned a teaching certification for Secondary Education for German and English from the Otto-von-Guericke-University Magdeburg (Germany) in 2008. After that, I spent 18 months teaching German to students at Texas Tech University, while also getting a Master in German and a Minor in Linguistics. I enjoyed English-speaking academia and teaching college-age students and decided to get my PhD at the Pennsylvania State University in 2015 with the dissertation "The Concert Hall as Heterotopia: Sounds and Sights of Resistance in the Leipzig Gewandhaus 1970-1989."
I am an award-winning teacher and scholar. I received ACTFL's 2020 national Small Undergraduate German Program Special Interest Group Award for Outstanding German Program Development and Advocacy. In 2019, I was an Alternate for the American Postdoctoral Fellowship by the American Association of University Women for her project "Sound Imagery in the German Democratic Republic." In 2016 together with my former student Briannon Carlsen '17, I ranked among the top 5 translators of the "Children's Books on Tour Translation Competition." I also received the 2013 Harold F. Martin Graduate Assistant Outstanding Teaching Award at Penn State for my work in the German classroom.
My interdisciplinary research focuses on East German music, architecture, and the fine arts during the 1970s and 1980s with an eye to questions of artistic expressions of social change, musical engagement with socio-political issues, the reception history of art in the GDR, and issues of gender and class. I have published, among other things, on works of the band Rammstein, contemporary HipHop artists, Gustav Mahler, and the Gewandhaus in Leipzig. In the recent past, I have been tracing the work of female rock musicians in the GDR with a special focus on the role of the working mother. All these themes inform my work in the classroom where I enjoy exploring various arguments and ideas together with my students.

Outside of academia, I enjoy the making of, and listening to, music in all its forms and variations. I love being outside, especially when the sun is shining and temperatures are above freezing. I like to see the world and meet many of its people. When you meet me on campus or in class, you can ask me any question and I will be happy to answer!
---
PROFESSIONAL APPOINTMENTS
EDUCATION
---
At Carleton since 2015.
Highlights & Recent Activity
German Major Coordinator
Organizations & Scholarly Affiliations
Germanic American Institute (GAI)
Women in German (WiG)
German Studies Association (GSA)
The American Association of Teachers of German (AATG)
The American Council on the Teaching of Foreign Languages (ACTFL)
The American Civil Liberties Union (ACLU)
Current Courses
Fall 2023

GERM 101:

Elementary German

GERM 208:

Coffee and News