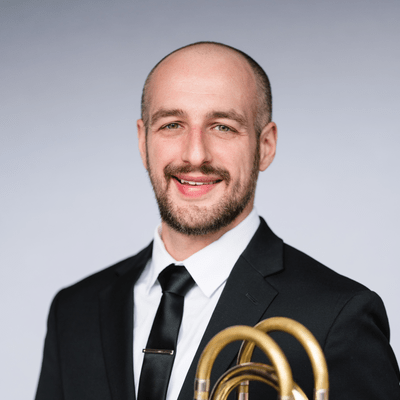 Joshua Becker
Instructor in Trombone/Euphonium and Tuba,
Music
---
Education & Professional History
Dr. Josh Becker is Instructor in Trombone, Euphonium and Tuba at Carleton College. He also teaches 5th Grade Band and serves as Coordinator of Elementary Band in the Rosemount-Apple Valley-Eagan, MN Public Schools. Dr. Becker conducts the brass choir at Prince of Peace Lutheran Church, maintains a large low brass studio, serves on the faculty of the Shell Lake Trombone Camp and is an active freelance musician in the Twin Cities.
As a bass trombonist, he has performed with the Houston Ballet, Houston Symphony, Minnesota Orchestra, Rochester Philharmonic, Symphoria Orchestra of Syracuse, the Eastman Jazz Ensemble and the Eastman Wind Ensemble. Dr. Becker was a scholarship student at the Aspen Music Festival for three summers and was a finalist in competitions at the International Trombone Festival and Eastern (American) Trombone Workshop.
His principal teachers are Allen Barnhill, Phillip Freeman, David Kirk, Dr. John Marcellus, Dr. Phil Ostrander, John Rojak, David Waters and Larry Zalkind.
An Apple Valley, MN native, he lives in Rosemount with his wife, Mary and their children, Carla and Luke.
DMA – Eastman School of Music, MM – Rice University, BME – UW-Eau Claire
At Carleton since 2023.
Current Courses
Fall 2023

MUSC 166:

Trombone/Euphonium

MUSC 166J:

Trombone/Euphonium (Juried)

MUSC 266:

Trombone/Euphonium

MUSC 266J:

Trombone/Euphonium (Juried)

Winter 2024

MUSC 166:

Trombone/Euphonium

MUSC 166J:

Trombone/Euphonium (Juried)

MUSC 266:

Trombone/Euphonium

MUSC 266J:

Trombone/Euphonium (Juried)