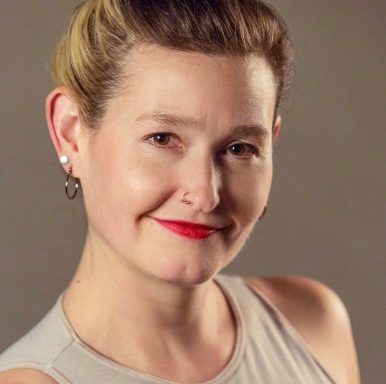 Erinn Liebhard
---
I'm a Twin Cities (Minnesota)-based dance artist making opportunities for people to experience the reflective and connective power of groove through performance and education. My pronouns are she/ her and I dance on the traditional lands of traditional lands of the Dakota and Ojibwe people. Having grown up dancing socially at my dad's rock band's gigs in the Midwestern region of the United States, I discovered young the exhilaration of playfully experiencing groove alongside others. Guided by this inspiration and a fondness for jazz and American social dance ideas, I've worked with creatives as varied as hip-hop dance theater artists Rennie Harris and the Wild Goose Chase Cloggers Appalachian clogging company.
In performance, I make and perform new staged works and present those of others through my company Rhythmically Speaking, and perform freelance and as self-created character "Nerdette" for St. Paul Saints Baseball's Entertainment Team. I also create new works for high schools, colleges and professional dance companies. My creative works emphasize groove, interaction and improvisation, and are inspired by both social and concert dance movement while often driven by contemporary jazz music. In education, I am an active jazz dance residency artist in higher education, work as a Teaching Artist for the Cowles Center for Dance and the Performing Arts and serve as a member of their Advisory Council, and am faculty at St. Olaf College and Winona State University in addition to Carleton. I am also an active writer and conference presenter. I acknowledge that as a dance artist working in jazz and American social dances, forms with African diasporic roots and branches, anti-racism and intersectional justice efforts must also be central in my work.
---
At Carleton since 2023.