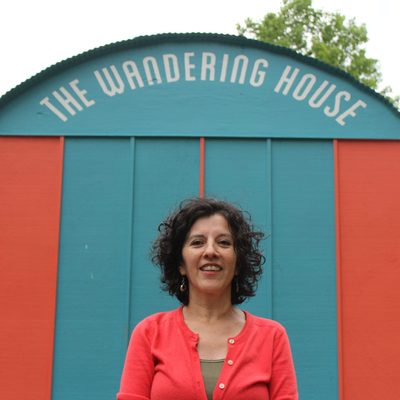 Cecilia Cornejo
---
Education & Professional History
University of Iowa, BA; School of the Art Institute of Chicago, MFA
Cecilia is a Chilean-American documentary filmmaker, artist and educator based in Northfield, Minnesota, the occupied ancestral land of the Wahpekute Band of the Dakota Nation. Locally rooted yet globally minded, her work examines notions of home and the immigrant experience while exploring the traces of historical trauma on people and places. Since moving to Northfield in 2010, Cecilia has produced two feature-length documentaries in close partnership with underrepresented groups in town: Making Noise ~ The Story of a Skatepark (2016), developed with the local skateboarders, and Ways of Being Home ~ Between Northfield & Maltrata (2020), made in collaboration with members of the Latinx community in town. Her latest explorations, The Wandering House, The Embroidery Project and Sonic Landscapes of Rural Minnesota, have sparked collaborations with individuals and organizations inside and outside of Northfield and expanded her practice beyond filmmaking.
An inaugural recipient of the 2020 McKnight Fellowship for Community-Engaged Artists, Cecilia's work has received support from the Minnesota State Arts Board (2016, 2018, 2020), the National Association of Latino Arts and Culture (2019), the Mellon Grant Public Works Initiative, from Carleton College (2018, 2019, 2021), the Jerome Foundation (2016), and the Southeastern Minnesota Arts Council (2014). Her film work, currently distributed by Women Make Movies, has shown at MoMA's Documentary Fortnight, the Minneapolis/St. Paul International Film Festival, Cine las Americas (TX), Lonestar Film Festival (TX), as well as internationally at L'Alternativa (Spain), Arsenale (Germany), InVideo (Italy), Melbourne Latin American Film Festival (Australia), Puerto Vallarta International Film Festival (Mexico), Festival Internacional de Documentales de Santiago (Chile), Festival de Cine Pobre (Cuba), and more.
Cecilia teaches Digital Foundations, The Essay Film, Documentary Studies, and Cinema and Cultural Change in Chile and Argentina.
---
At Carleton since 2013.
Current Courses
Winter 2023

CAMS 246:

Documentary Studies

Spring 2023

CAMS 111:

Digital Foundations