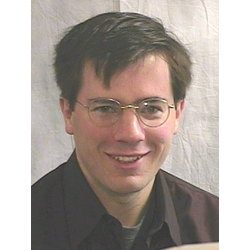 Baird Jarman
---
Education & Professional History
Williams College, BA; Williams College/Clark Art Institute, MA; Yale University, MA, MPhil, PhD
Baird Jarman is an Associate Professor of Art History at Carleton College. His research focuses on nineteenth-century American visual culture, such as Gilded Age satire, Civil War reportage, Progressive Era mural painting, and early motion pictures. He is currently completing a book about political caricature during the Reconstruction era.
---
At Carleton since 2002.
Highlights & Recent Activity
Recent Publications:
"Quick as a Flash: Victor Collodion and the Development of the Lightning Artist," Nineteenth-Century Art Worldwide 19.2 (Autumn 2020).
"The Political Broadsides of Currier & Ives: A Reconsideration" in Revisiting America: The Prints of Currier & Ives, exhibition catalogue (Omaha: Joslyn Art Museum, 2020).
Recent Conferences:
"The Trouble with Thomas Nast," Illustration Across Media: Nineteenth Century to Now, symposium, Washington University, St. Louis, Mar. 22, 2019.
"Type/Portrait," session moderator / symposium steering committee member, Association of Historians of American Art, 5th Biennial Symposium, Minneapolis, Oct. 6, 2018.
Organizations & Scholarly Affiliations
American Studies Association
Association of Historians of American Art
College Art Association
Midwest Art History Society
Society of Architectural Historians
Current Courses
Fall 2022

ARTH 100:

Art and Culture in the Gilded Age

Winter 2023

ARTH 102:

Introduction to Art History II

ARTH 171:

History of Photography

EUST 110:

The Power of Place: Memory and Counter-Memory in the European City

Spring 2023

ARTH 260:

Planning Utopia: Ideal Cities in Theory and Practice