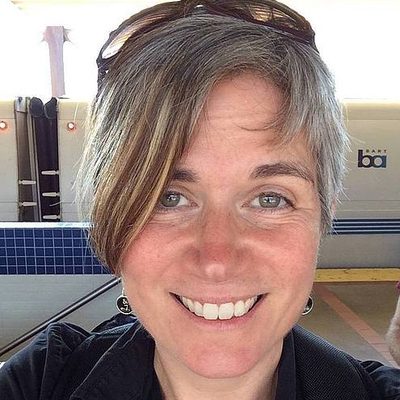 Adriana Estill
---
Education & Professional History
Stanford University, BA; Cornell University, MA, PhD
---
At Carleton since 2003.
Highlights & Recent Activity
Recent:
"Don't Look Away: The Bodies of American Studies," in Teaching American Studies: State of the Classroom as State of the Field, University of Kansas Press, 2021.
"Telenovelas and Melodrama in Latin America." Oxford Bibliographies in "Latin American Studies". Ed. Ben Vinson. New York: Oxford University Press, 2019. http://www.oxfordbibliographies.com/view/document/obo-9780199766581/obo-9780199766581-0206.xml
"Yearning to Belong, Drawn to be Mexican: Hollywood Depictions of White Lack and Mexican Affective Fullness," with Lee Bebout, Aztlán: A Journal of Chicano Studies 43.2 (Fall 2018) 103-35.
In the works:
"Telenovela Feeling in Sandra Cisneros's Loose Woman" [to be included in an edited collection on Sandra Cisneros's work]
"Latinx Melodrama: Jane the Virgin, Vida, and the Twenty-First Century Audiovisual Narratives" [to be included in the Cambridge Latinx Literature in Transition volume]
"Telenovelas on U.S. Prime Time: Brown Feeling Mediated" [to be submitted to Meridians]
Organizations & Scholarly Affiliations
American Studies Association, Latin American Studies Association, Latina/o Studies Association, National Association of Chicano/a Studies, The Society for the Study of the Multi-Ethnic Literature of the United States
Current Courses
Fall 2022

AMST 398:

Advanced Research in American Studies

AMST 400:

Integrative Exercise: Exam and Essay

ENGL 241:

Latinx Voices in the Age of Trump

AMST 399:

Senior Seminar in American Studies

Winter 2023

ENGL 227:

Imagining the Borderlands

ENGL 290:

London Program: Directed Reading

Spring 2023

AMST 396:

Producing Latinidad

AMST 400:

Integrative Exercise: Exam and Essay

ENGL 290:

London Program: Directed Reading

Summer 2023

Fall 2023

AMST 115:

Introduction to American Studies

AMST 398:

Advanced Research in American Studies

Winter 2024

AMST 399:

Senior Seminar in American Studies

AMST 400:

Integrative Exercise: Exam and Essay

Spring 2024

AMST 396:

Producing Latinidad

ENGL 255:

The Poetics of Disability