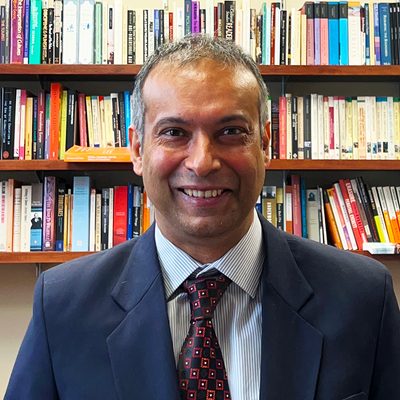 Arnab Chakladar
Associate Professor of English,
English
---
Education & Professional History
Delhi University, BA; University of Southern California, MA, PhD
Assistant Professor in English and Comparative Literature, University of Colorado, Boulder, 2003-2007
I teach and research contemporary South Asian literature and culture. My particular interests are in issues of translation and multilinguality in the production, consumption, study and teaching of South Asian literature. I also teach classes on British colonial literature, Caribbean fiction, contemporary postcolonial and postmodern fiction, and Bombay cinema. I am also the founder of AnotherSubcontinent.com, an online journal and forum on South Asian society and culture.
---
At Carleton since 2007.
Current Courses
Fall 2022

ENGL 100:

Novel, Nation, Self

ENGL 350:

The Postcolonial Novel: Forms and Contexts

Spring 2023

ENGL 245:

Bollywood Nation

ENGL 253:

Food Writing: History, Culture, Practice

Summer 2023

ENGL 274:

Ireland Program: Irish Literary Pasts and Presents

ENGL 292:

Ireland Program: Irish Field Studies

Fall 2023

ENGL 100:

Novel, Nation, Self

ENGL 251:

Contemporary Indian Fiction

Winter 2024

CAMS 231:

Film, Literature and Culture in Mumbai and Seoul: Korean Cinema

CAMS 233:

Film, Literature and Culture in Mumbai and Seoul: Korean Popular Culture

ENGL 246:

Film, Literature and Culture in Mumbai and Seoul: Beyond Bollywood

ENGL 273:

Film, Literature, and Culture in Hong Kong/Seoul and Mumbai: Hong Kong Fiction

ENGL 275:

Film, Literature and Culture in Mumbai and Seoul: Writing Mumbai and Seoul