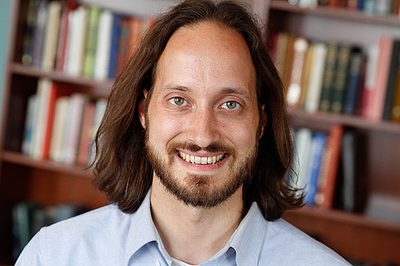 Austin Mason is the Assistant Director of the Humanities Center for Digital Humanities and Director of the Digital Arts & Humanities minor program. Working closely with representatives from the Library, Academic Technology and Information Technology Services, he seeks to foster an interdisciplinary model of collaboration between faculty and undergraduate student-scholars as co-researchers, integrating digital methods deeply into the Liberal Arts curriculum.
Hired in 2015 as Robert A Oden Jr. Postdoctoral Fellow for Innovation in the Liberal Arts and Digital Humanities, Professor Mason's responsibilities include teaching courses on digital methods, digitally-inflected history courses, and collaborative courses in a number of departments that incorporate digital project work; assisting faculty in integrating digital research methods into their own classroom curriculum; and co-supervising the Digital Humanities Associate program that trains undergraduates to help coordinate research and pedagogy projects in humanities classrooms.
If you have an idea for a project or collaborative course offering, get in touch!
Teaching
Intro to Digital Humanities Methods
Each year, Professor Mason teaches an interdisciplinary digital methods course entitled Hacking the Humanities 2015 Website
COURSE DESCRIPTION: The digital world is infiltrating the academy and profoundly disrupting the humanities, posing fundamental challenges to traditional models of university education, scholarly research, and academic publication. This course introduces the key concepts, debates and technologies that are shaping the Digital Humanities revolution, including text encoding, digital mapping (GIS), network analysis, data visualization, and the basic programming languages that power them all.
Collaborative Teaching
Collaborative courses include Bringing the English Past to (Virtual) Life, (with Prof. Susannah Ottaway, History) , a deeply digital course that used a number of methods.
A digital archive in Omeka that facilitated original archival research
A 3D model of an English workhouse built in SketchUp by our Digital Humanities Associate Teaching Assistant, Florence Wong
The Twine interactive digital storytelling platform to create Choose Your Own Adventure style text-based games of a day in the life of a workhouse inmate
The Unity game engine to bring these elements together into an interactive 3D serious game exploring the history of pre-industrial workhouses.
A WordPress website that brought all of the student work together
Site-Specific Media: Out and About (with Prof. John Schott, Cinema and Media Studies), for which I spearheaded two digital projects.
A location-based psychogeography app called GET LOST that overlays maps of other places on to Carleton and Northfield
An augmented reality historical app built in the Unity game engine that overlays 3D models of no-longer-extant Carleton buildings, archival photographs, oral histories and voice narration onto the camera feed of a mobile device for an historical tour of Carleton circa 1900.
The Boston Massacre in 3D: Mapping, Modeling and Serious Gaming will be taught as a DH Lab in Winter 2017 in conjunction with Prof. Serena Zabin's course on The American Revolution.
COURSE DESCRIPTION: In this highly experimental, demanding, and project-orientated Digital Humanities Lab, we will research, design, and produce immersive 3D experiences based on the events of the Boston Massacre. We will leverage all the critical, creative, and technical skills we can assemble to bring this pivotal moment in early American history to life in 3D. Tools will include GIS and CityEngine procedural mapping software, 3D modeling programs, and the Unity game engine. No technical experience necessary, but a willingness to learn independently is required.