Join us for the second annual Day of DH @ Carleton College – a FREE one-day regional conference where those engaged in digital scholarship in the upper midwest can share their work, forge connections with other DH practitioners, and learn new concepts and skills.
---
Event Schedule
9:30 am – Breakfast and Mingle!
10:00 am – Lightning Round Talks
11:00 am – Poster Sessions
12:00 pm – Lunch
12:15 pm – Keynote Speaker: Dorothy Kim
1:30 pm- 3:00 pm – Hands-on Break-Out Sessions
---
Keynote Speech, 12:15 pm

Disrupting DH and Dissident DH Pedagogies
Dorothy Kim, Vassar College
M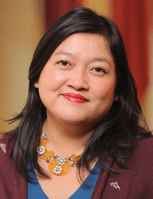 y talk will address the place of learning, pedagogy, community, and activism in the digital humanities. Building a truly communal space for the digital humanities requires that we all approach that space with a commitment to: 1) creating open and non-hierarchical dialogues; 2) championing non-traditional work that might not otherwise be recognized through conventional scholarly channels; 3) amplifying marginalized voices; 4) advocating for students and learners; and 5) sharing generously to support the work of our peers. In Disrupting the Digital Humanities, my co-editor and I wrote that our aim in gathering this material is to construct something that uses all of the talk about what the digital humanities is and isn't as a jumping off point for a much deeper inquiry about disciplinarity, the future of higher education, and what it is to be radically and diversely human in the digital age.
---
Lightning Round Sessions
The morning is devoted to lightning round presentations and a digital poster session highlighting the current projects of the participants.
Kirsten Delegard, Historyapolis Project, Augsburg College
Kevin Ehrman-Solberg, MGIS student in Geography, Environment and Society, University of Minnesota
Ryan Mattke, Map & Geospatial Information Librarian, Head, John R. Borchert Map Library
Penny Petersen, property researcher Mapping Prejudice.
Mapping Prejudice is working to identify and map racially-restrictive property deeds in Minneapolis. Racially-restrictive deeds–also known as covenants–are legal documents that prohibit the purchase, lease or occupation of property by particular groups, especially African Americans. These contracts were used to keep neighborhoods racially segregated in northern cities in the United States during the twentieth century. Our project brings together an interdisciplinary team of community activists, students and scholars from Augsburg College and the University of Minnesota. We are using Optical Character Recognition software and Arc-GIS to create the first-ever comprehensive visualization of these restrictions for an American city.
Empowering Emerging Artists through Web-based Portfolios
Kelly Connole and Stephen Mohring, Carleton College
A well-constructed web presence is critical to any artist especially those in the emerging phase of their career. The Art Department has noticed a significant disparity in the confidence of our graduating seniors as they attempt to create web portfolios and begin their journey into the professional art world. With funding from FLTG we've created a digital portfolio assignment to introduce seniors to web page creation, an essential component in successful applications for exhibitions and artist residencies. Having just completed the one year pilot, we are working to fine tune the exercise for the future.
Digital Modeling, Interactive Visualization, and the Oratorical Performance Spaces of Ancient Greece
Richard Graff, University of Minnesota & Bret Jackson, Macalester College
with Kyungyoon Kim, University of Minnesota
Daniel F. Keefe, University of Minnesota
Panagiotis Karampatzakis, University of Thessaloniki, Greece
Christopher L. Johnstone, emeritus, Penn State University
Display and explanation of 3D architectural models, immersive, interactive visualization techniques, and custom user interface developed as part of an interdisciplinary study and analysis of the spaces and buildings used as stages for the performance of political oratory in Athens and other ancient Greek city-states.
Assassins' Creed and Sid Meier's Civilization in the Classroom
Matt King, University of Minnesota – Twin Cities
A 2008 Pew Survey found that 97% of teens play video games. In the nine years since that survey was conducted, this number has only risen. As many of the most popular video games among teens (Assassin's Creed, Skyrim, Sid Meier's Civilization) feature historical or historically inspired environments, it behooves undergraduate educators to consider how these games influence students' perceptions of the past, whether consciously or not. This talk will highlight the ways in which an interdisciplinary group of professors have utilized video games in their courses and consider how these secondary sources can be used in the undergraduate classroom.
Updating an Academic E-Journal: Moving the Journal of Historians of Netherlandish Art to WordPress
Alison Kettering, Heidi Eyestone, Qimeng Yu, Sara McAuliffe, and Noah Scheer, Carleton College
Started in 2009 by the Historians of Netherlandish Art, the Journal of Historians of Netherlandish Art helped innovate art history publishing by creating a stand alone, open access, peer-reviewed digital journal. In 2016, HNA applied for and received a grant to revamp its web 1.0 site from the Gladys Krieble Delmas Foundation. After surveying many options for web publishing, HNA selected WordPress. Now to engage more with the digital humanities, JHNA is applying for grants from the NEH and other foundations to publish academic articles alongside digital humanities projects. In the meantime, the journal plans to publish articles that contain digital enhancements, expanding the possibilities of academic digital journal articles.
John Thabiti Willis, Carleton College
Mapping Masks and Their Histories in a Nigerian Town maps the distribution of masquerades in a Nigerian town known as Otta. This projects offers an innovative approach to the history of key aspects of West African politics and socieity: the masquerade traditions through which townspeople, indigenous inhabitants and immigrants, men and women, political leaders and religious ones vied with one another for power and status.
Historical Recipes + Digital Collaborations
Emily Beck, Wangensteen Historical Library of Biology and Medicine, UMN 
Lois Hendrickson,Wangensteen Historical Library of Biology and Medicine UMN
A daylong symposium, Historical Recipes + Digital Collaborations, introduced scholars to recipes from food and medicines, to textile dyes and invisible ink. Speakers sparked new ideas about using recipes in public spaces, teaching, and scholarship, including Katie Rawson's (Emory) keynote on digitized, transcribed, and marked-up recipes. Afternoon sessions connected recipe scholarship and digital humanities with a focus on exhibit-building platform Omeka. Using a small data set from the Wangensteen's digitized manuscript recipe collection, participants workshoped ideas of how recipes can be integrated in the digital humanities in order to create dynamic spaces for interdisciplinary and collaborative research and for public presentation.
Rob Hardy, Carleton College
Austin Mason, Carleton College
Bede's Historia Ecclesiastica Gentis Anglorum, completed in 731 CE, remains our best source of knowledge about early Anglo-Saxon history. This important text has been published in many English translations and scholarly editions, but for Latin learners trying to read and understand the HE in the original language, options have been limiited. Curently, the only available student commentary on selections from Bede's Historia Ecclesiastica is F.W. Garforth's 1967 text and commentary, which has several shortcomings—not least of which is his complete omission of sections on important Anglo-Saxon women such as Saints Æthelthryth and Hild. This digital commentary, currently under development on the Dickinson College Commentaries platform, seeks to address those omissions, as well as to provide fuller and more helpful grammatical notes and up-to-date digital resources (such as maps) to aid in an understanding of Bede's text.
Celeste Tường Vy Sharpe, Carleton College
This talk will discuss both the content and process of my digital dissertation project titled: They Need You! Disability, Visual Culture, and the Poster Child, 1945-1980. This dissertation argues that the National Foundation for Infantile Paralysis/March of Dimes and Muscular Dystrophy Association's poster child campaigns' emphasis on curing disability and illness centered on a rhetoric of disease eradication, which through repetition became a dominant logic for health charities in the United States. This project is presented through the digital publishing platform Scalar in an alternate structure for the elements required of a historical dissertation—historiography, artifacts, data, analysis, citations. I'll discuss the particular opportunities and challenges of a digital dissertation project and how it connects to broader conversations about digital history scholarship.
Martin Hoffmann '19, Carleton College 
Serena Zabin, Austin Mason, and the students of HIST 212 and HIST 291: Boston Massacre 3D Game Dev
Witness to the Revolution is a serious, first-person, three-dimensional game created by Carleton students as a partnership with the Boston Old State House. The game asks the player to find witnesses to a shooting of civilians by soldiers on the streets of Boston during the night of March 5, 1770. Because eyewitnesses report such different stories, and because both soldiers and Bostonians had a vested interest in blaming the other for the deaths, the actual events of that night have never been clear. As players collect depositions and assess their trustworthiness, they build up the elements of a replay of the actual shooting. At the end of the game, the player has a chance to witness the version of the violent confrontation that their investigations suggest. The Old State House, the primary museum about the Boston Massacre, plans to use the completed game as a part of its permanent exhibition.
---
Break-out Sessions
In the afternoon, participants will break up for 90 minute hands-on sessions devoted to specific aspects of DH pedagogy and practice: Digital Storytelling, Network Analysis and Topic Modeling.
Immigrant Stories: New Tools for Digital Storytelling
Elizabeth Venditto, University of Minnesota
This workshop will introduce participants to Immigrant Stories, a digital storytelling and archiving project, and the project's story-making website, immigrantstories.umn.edu. The website helps anyone make and share a digital story about a personal or family immigration experience, even if they have no previous audiovisual experience. The website includes writing prompts, training videos, free access to video editing software, and a click-through donation form. Participants will also learn about how they might adapt the project's digital storytelling tools, training, and online archiving model for their own work.
Got Networks? I Can Help: Network Analysis 101
Rebecca Wingo, Macalester College
In this hands-on workshop, we will learn the basics of network analysis for data visualization and I will briefly demonstrate how I've used networks in my own research. Following that, we will generate our own network–live and in person! Participants will organize their data, get a brief introduction into cleaning up their data, and then generate their network. There will be plenty of time to explore and play with our network analysis software, Gephi, and to answer all your burning questions about network analysis and why it's so cool.
Introduction to Topic Modeling       
Eric Alexander, Carleton College
In recent years, the practice of probabilistic topic modeling has grown in popularity for those working in digital text analysis. Topic modeling allows researchers to learn about large collections of documents by extracting sets of words ("topics") that tend to appear in most of the same documents. These topics can then be used to summarize the documents, cluster them together, or compare them in a variety of different ways. However, the algorithms make certain assumptions about the data that are worth considering before interpreting the models' results. In this workshop, we will go through a high-level explanation of the practice of topic modeling, try our hand at some of the most common out-of-the-box tools available for creating such models, and see some examples of what kinds of new analysis they afford us.