Celebrating the Digital Humanities at Carleton College
In May of 2016, we celebrated the first annual Carleton College Day of DH — a half-day event highlighting the faculty-student collaborative digital humanities projects going on in classrooms and offices around Carleton and at fellow institutions in the region.
---
Schedule
10am: Lightning Round of digital projects from Carleton, St. Olaf, and Macalester
11:45: Buffet lunch served for first 50 attendees
Noon: Lunch Keynote: Evan Roberts and Andrea Simenstad (University of Minnesota)
1:30: Optional informal project consultations
---
Keynote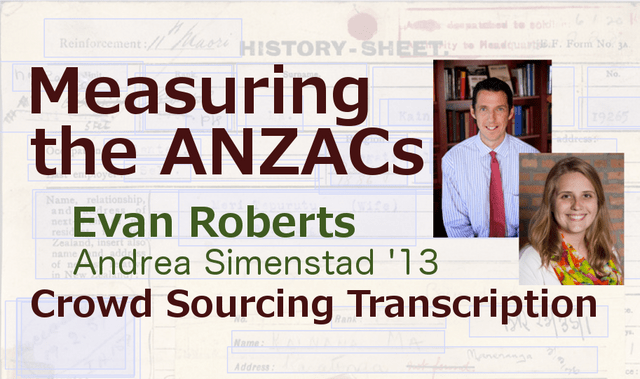 Lighting Round Projects
---

Alex Knodell (Carleton)
Students and faculty colleagues from Switzerland, Greece, and elsewhere in the US
The Mazi Archaeological Project (MAP) is a diachronic regional survey in northwest Attica, Greece, comprised of an international team of researchers from Greece, Switzerland, and the United States. Fieldwork began in 2014 with a geomorphological survey and the first season of an intensive archaeological survey of the Mazi Plain, and continued in the summer of 2015. This small mountain plain is situated in the Kithairon and Pateras mountain ranges and is a key location in the borderlands between Attica and Boeotia. The plain also occupies a critical crossroads on regional and interregional land routes between central and southern Greece.

George Vrtis (Carleton), Chris Wells (Macalester)
Students of HIST 316: History, Nature, & Smartphones
Minnesota Environments is a free mobile app and accompanying website that lets you explore Minnesota's environmental history from your smartphone, tablet, or computer. Using geo-located maps and multimedia presentations, Minnesota Environments brings to life the people, places, ecosystems, and developments that have shaped Minnesota's environmental past. Each of the stories also invites you to join the conversation by contributing your insights, experiences, and thoughts.

Jeff Ondich (Carleton)
Compsing seniors in the CS department
Augmented reality: point your phone at a building on campus and get a popover showing info about that building. More augmented reality: create virtual objects that have real-world locations, and walk around them looking at them with your phone. Location-based history: an app with historical text and images tied to locations around campus (developed for the Carleton Sesquicentennial). Scene reconstruction: given a collection of images of a 3D object from various angles, automatically construct a 3D model of the object (and optionally texture-map it with the photos).

William North & Victoria Morse (Carleton)
Students of OCS History, Religion, and Urban Change in Rome
Heather Tompkins, Doug Bratland, and the DHAs
Students on the OSC Rome Program visit a site, read at least one article about it, and write a short paragraph that presents an insight from the article along with their own observations. They also take a photograph that complements their writing about the site. Together these articles contribute to a growing online guide to Medieval Rome, filling a gap in the English language travel guide options currently available.
Louis Epstein (St. Olaf)
Katharina Biermann, Philip Claussen, Natalie Kopp, Breanna Olson, Jason Menard
How can digital mapping help recreate the sound world of the past? Maps have always been a useful tool for music historians, but our interactive, chronological maps allow students, scholars and the general public to explore music history in new ways. Focusing on 1920s Paris – which boasted particularly rich musical offerings – we have populated our maps with sonic events, including concerts, film showings, and church services. Ultimately, our maps will offer students of music history a new way to access and analyze information, and our maps will offer musicologists a new model for conducting and sharing research.

Rebecca Wingo (Macalester)
Using network analysis, I visualized the socio-legal network of homesteaders and their witnesses in ten townships across Nebraska. The homesteader networks demonstrate community formation, leadership, and geographic settlement patterns of neighborhoods in the rural west. This methodology also provides insight into the prevalence of homesteading fraud among successful homestead claims.
Chris Martin (Carleton)
Students of ENGL 160: Introduction to Creative WritingEric Mistry, Christina Chang, Janet Russell, and Randy Hoffner
An experiment in how creative writing might proffer an alternative sociological cartography of Carleton campus and beyond. Students chose a piece of public art or an object/site/architecture they wanted to consider in the light of art and responded to it in the genre of their choosing. There are currently eleven sites and twelve responses (one site has two). At each site there is a QR code that, when scanned, directs passersby to the proper response text. We'd love to see existing sites deepen through response and additional sites added.

Shana Sippy & Michael McNally (Carleton)
Students of RELG 289: Global Religions in Minnesota
Students of RELG 130: Native American Religions
Academic Technologists, ITS, the Library, DHAs, and PEPS
The Religious Diversity in Minnesota Initiative brings religious studies scholars specializing in a range of traditions together with Minnesota's communities and professional organizations to help Minnesotans' efforts to navigate challenges, promote greater religious literacy, provide publicly accessible web-based and local resources, and to foster nuanced and informed public conversation about and across religious difference. Phase One of the initiative has involved the development of a web-based multimedia resource of public scholarship curating stories of Minnesota's religious communities, Ojibwe and Dakota sacred sites, case studies of both conflict and resolution, produced by students in our respective courses. Now firmly and handsomely secured on the Omeka public humanities technical platform, the website Global Religions in Minnesota, presents a rich body of narrative and content to inform and refine public conversation about navigating religious difference. Students have curated community voices, and subsequent student research assistants have helped refine, fact check, and migrate content to the new platform. The challenge that remains with Phase One is, in part, the transformation of student reseach and writing into content ready for a public audience. This involves fact-checking, formatting, and data management.

Austin Mason & Susannah Ottaway (Carleton)
Students of HIST 235: Bringing the English Past to (Virtual) Life
"Team Workhouse" student researchers
In "Bringing the English Past to Virtual Life", post-doctoral fellow Austin Mason and professor of history Susannah Ottaway explored the theory and practice of English social welfare systems in a new way: by creating with their students computer game scenarios that explore the lived experience of paupers within an immersive 3-dimensional virtual institution created by a team of student researchers and Digital Humanities Associates. Interweaving a wide range of digital tools with traditional humanistic sources and methods, students and professors gained new insights into teaching and learning, as well as into the history of England.
---