Jan
19
Convocation with Jerron Herman
Fri, January 19, 2024 • 10:50am - 11:50am (1h) • Skinner Memorial Chapel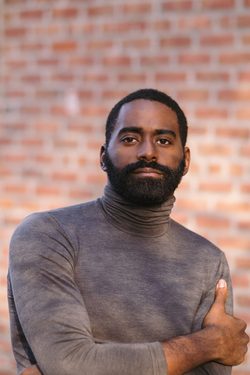 Jerron Herman is a dancer and writer who is compelled to create images of freedom. His process is  supported by personal histories and social legacies of disability aesthetics that undermine notions of  production in favor of welcoming.  
The nuanced pieces Herman exhibits contend with an early childhood desire to create many worlds  in which others inhabit. He has premiered works at Danspace Project, Performance Space New  York, The REACH (excerpt), and The Whitney Museum. Jerron's most recent work VITRUVIAN  premiered in May 2022 and has toured to the Baltimore Museum of Art curated by Johns Hopkins  University and ODC in San Francisco. From 2019-2020 he curated the speaking series Access  Check 2.0: Mapping Accessibility for the Shelley & Donald Rubin Foundation and Discourse:  Disabled Artists at The Joyce for The Joyce Theater in 2021. Jerron has also served on the Board of  Trustees at Dance/USA since 2017, most recently as Vice Chair. His writings on arts and culture  have been published in the US and abroad and his play, 3 Bodies, was published in Theater  Magazine's June 2022 issue. 
Jerron is also the choreographer and co-director of Sensorium Ex, a new opera. As a model and  advocate, Jerron has worked with HIMS, Rothy's, Tommy Hilfiger, Cerebral Palsy Foundation,  Samsung x i-D, and Nike. Other accolades include Spring 2022 Georgetown Artist/Scholar-in Residence, 2021 Grants to Artists Award from the Foundation for Contemporary Arts and a 2021- 2022 Jerome Hill Artist Fellowship in Dance from the Jerome Foundation; the 2021 PETRONIO  Award and residency and a 2020 Disability Futures Fellowship by the Ford Foundation and the  Andrew W. Mellon Foundation.