Apr
21
Convocation with Audrey Johnson, featuring pianist Sarah Lockwood
Fri, April 21, 2023 • 10:50am - 11:50am (1h) • Skinner Memorial Chapel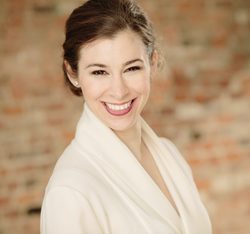 Audrey Johnson -
Throughout her career, the performance of American vocal works and the delivery of classical music to American audiences have been integral parts of Mezzo Soprano Audrey Johnson's artistic focus, with lasting effect to all listeners.
As a result, Audrey has combined her vocal talents and performing experience with her patriotic passions to create Of Thee I Sing: American Heritage Through Song, an innovative performance platform featuring educational, interactive concert programming with the mission of bringing American history to life through music, connecting audiences with American song, and inspiring positive patriotism and engaged citizenship through the music of our nation.
The company's inaugural programming on the Women's Suffrage Movement has been endorsed by the Indiana Arts Commission, Opera Aficionado (San Francisco Opera), Shreveport Opera, The Minnesota Federation of Music Clubs, the Boys & Girls Club, the Girl Scouts, and many other educational, arts, and civic organizations throughout the country.
An abridged arrangement of the Woman's Suffrage program was orchestrated by PBS/Kennedy Center arranger James Kessler, which premiered with the Wooster Symphony Orchestra this past Fall with support from the Wayne County Historical Association. This coming Spring, Audrey will be professionally recording this work with the Royal Scottish National Orchestra.
Audrey received her Bachelor of Music degree from Simpson College and her Master of Music Degree from the University of Houston, with professional performances of standard repertory including Hansel in Hansel and Gretel, Mrs. DeRocher in Heggie's Dead Man Walking, Meg in Adamo's Little Women, Cherubino in Le nozze di Figaro, Prince Charming in Massenet's Cendrillon, Prinz Orlofsky in Die Fledermaus, Mercedes in Bizet's Carmen, and Berta in Il Barbiere di Siviglia.
Sarah Lockwood -
Sarah Lockwood received her Bachelor of Music degree in piano performance from Depauw University (Greencastle, IN), and her Masters of Music degree in Collaborative Piano at the University of Minnesota (Minneapolis). Sarah has held staff accompanist positions at Carleton College, Augsburg College and MacPhail Center for Music. She has collaborated with participants for various competitions such as The Schubert Club, Thursday Musical and NATS, and has also worked with singers for Minnesota Opera auditions and with saxophonists at the Eugene Rousseau Saxophone Camp in Shell Lake, Wisconsin. In Hastings, Minnesota where she lives, Sarah works closely with the Hastings Public Schools music programs and teaches private lessons. Sarah is the Director and Co-owner of Hastings Arts Center with her husband, Travis, who together, opened the center in 2015.