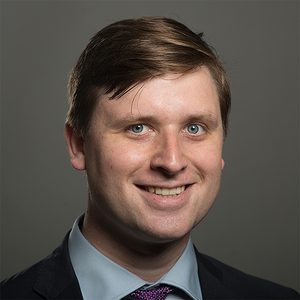 Celebrating the opening of the 2019-20 academic year, Washington Post national political correspondent James Hohmann will present Carleton College's opening convocation on Monday, September 16 at 3 p.m. in the Skinner Memorial Chapel. The assembly will be preceded by Carleton's traditional procession of faculty in academic regalia.
James Hohmann is the anchor of the Washington Post's PowerPost initiative, which focuses on the intersection of policy and politics, and the author of "The Daily 202" newsletter. The reported column, named for Washington's area code, is considered a must-read morning briefing for decision-makers in the nation's capital. Hohmann is also the host of "The Big Idea," The Post's daily morning news podcast.
Hohmann arrived at the Post in 2015 after five years at Politico, where he covered Congress and two presidential campaigns. He previously wrote for the Los Angeles Times, the Dallas Morning News and the San Jose Mercury News. A native of Apple Valley, Minnesota, Hohmann earned a B.A. with honors in history from Stanford University. He got his start in journalism as the editor-in-chief of The Stanford Daily and wrote an award-winning thesis about the 1976 Republican primaries and the political ascendancy of Ronald Reagan.
Weekly convocations resume September 27
Carleton's weekly convocation series returns Friday, Sept. 27, as a shared campus experience that brings students, faculty, staff, and interested community members together for a one-hour lecture. The goal of convocation, which takes place Friday mornings at 10:50 a.m. in the Skinner Memorial Chapel, is to stimulate thought and conversation on a wide range of subjects.
Highlights of the fall term series include:
A communications officer for the Open Society Foundations playing a leading role in advocacy for human rights
A mathematics educator examining how race, class, and language affect teaching and learning; a disability rights advocate describing how she learned to forge identity in a world that leaves many out
An innovative agronomist creating pathways out of poverty for rural Latino immigrants; an attorney and consultant offering insights on solving complex energy and environmental problems; and
A Native American historian sharing the importance of updating history to honor Indigenous peoples.
Descriptions of all upcoming convocations can be found on the Convocations website. All convocations are free and open to the public.