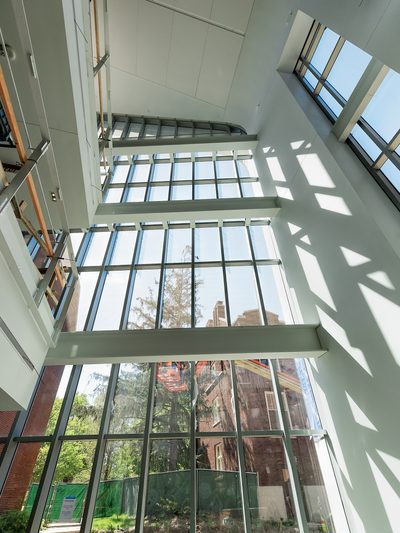 Evelyn M. Anderson Hall, Carleton's new integrated science center, will open to students and the public on Monday, September 16 (the first day of classes). A café in the building is scheduled to open in January 2020.
The number of contracted employees working Anderson Hall will be tapering off as Phase II (work on Olin Hall) begins. Most workers for the other summer projects left campus at the end of August.
According to Steve Spehn, Director of Facilities and Capital Planning, "In June there were about 150 contractor employees working on Anderson. In August it dropped to about 100. By the end of August the contractor is projecting about 20–30. The science project will ramp up again over the next year as Olin renovation gets underway and in full swing, but I am not expecting the same level of numbers as what we saw during the construction of Anderson."
The new building is named in honor of Evelyn M. Anderson, Class of 1921, a prominent research scientist who worked for at the National Institutes of Health and later as an endocrinologist for NASA.
Learn more and see weekly construction updates on the Facilities Management website.