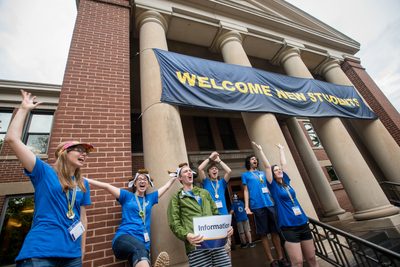 On Tuesday, Sept. 10, Carleton will welcome the Class of 2023 as the most diverse and most selective class in the college's history. Please join us in making them welcome as they explore our campus and community. The incoming class of 534 students — of which 33% identify as people of color — was selected from a pool of 7,324 applicants. First-generation college students make up 11% of the class. Learn more about the Class of 2023.
We have many events planned for our new students for the first week, taking place both indoors and outside. The main location for most of our larger events (and evening events) is the Carleton College Recreation Center. Our returning students will begin moving into the Residence Halls on Friday, Sept. 13, to settle in before classes begin on Monday, Sept. 16. Please note that any students living in off-campus residences make arrangements with their landlords for arrival, so we do not have specific information for those locations.
As always, we will remind our students of the many things that create good neighbors, such as introducing themselves, being mindful of all parking and traffic regulations (including while on their bikes), and being conscious of the families around them. When you get a chance, please help welcome our students to our community!