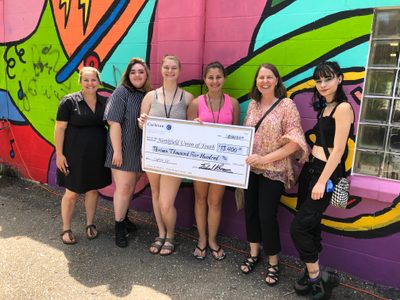 Proceeds from Carleton College's 19th annual "Lighten Up!" Garage Sale raised $37,300 for three area non-profits: Project Friendship, the Northfield Union of Youth ("The Key"), and Northfield Area Special Olympics. In addition to benefiting these community partners, the sale is a waste reduction event. This year's sale diverted 54,000 pounds of student materials from the local landfill.
This popular event is a joint effort by Carleton's Center for Community and Civic Engagement and Sustainability Office. Carleton staff and volunteers from the college and our community partners spent over 2,000 hours and three weeks transforming Laird Stadium into a giant showroom full of goods donated by students at the end of the academic year. This year organizers piloted an express checkout line, and it was a tremendous success in cutting down on customer wait time.
Community partners had this to say about the experience:
"Our volunteers love working on this project, where every volunteer job has equal value."
"We had the opportunity to interact with people in the community that we would not otherwise encounter."
Next year's "Lighten Up!" sale is scheduled for June 26–27, 2020.