The Stewsie Sustainability Award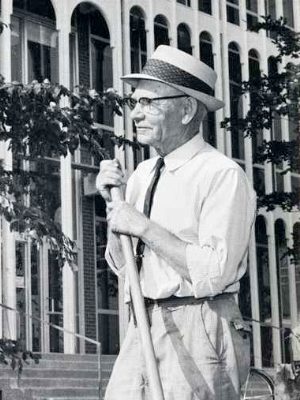 Every year, the Environmental Advisory Committee awards the Stewsie Sustainability Award to one Carleton student and one Carleton faculty or staff member who has made a notable impact on academic and/or operational sustainability efforts at Carleton.
The awards are given to Carleton campus citizens whose character most reflects the determination, conviction, and innovation of the lifelong service of Dresdon Blake Stewart, better known as "Stewsie." As superintendent of grounds, Stewsie served the College for more than 50 years. Through his problem-solving, willpower, and enthusiasm, Stewsie ensured the health and vitality of our natural environment.
The EAC seeks nominations for the award each spring. Winners receive a $150.00 cash prize and a certificate, as well as campus notification of their award.
Stewsie Award Eligibility Requirements
Nomination (unsolicited) by a member of the Carleton faculty, staff, or students
Full-time Carleton student or full-time Carleton faculty or staff member
Non-winners may be re-nominated in subsequent years; prior winners are not eligible
To Nominate
Write an email (no more than 500 words) describing why your nominee is deserving of this award.
Describe how your nominee embodies Stewsie's spirit through a specific sustainability project that improves the health of human-environmental relationships on campus and beyond
Detail how their experiences and character best reflect the spirit of Stewsie's conviction and dedication to our human relationship to the natural world
Email your nominations to Sarah Fortner by April 6, 2023
Past Winners
2022–2023
Student: Chloe Truebenbach '23
Staff/Faculty: Nancy Braker
2021–2022
Student: Rebecca Horwitz '22
Staff/Faculty: Kimberly K. Smith
2020-2021
Student: Alle Brown-Law '21
Staff/Faculty: Martha Larson, Manager of Campus Energy & Sustainability
2019-2020
Student: Andrew Farias '21
Staff/Faculty: Amy Swenson, Purchasing Card Specialist
2018-2019
Student: Alysala Malik '19
Staff/Faculty: Erica Zweifel, CCCE Program Manager
2017-2018
Student: Emma Link '18
Staff/Faculty: Alex Miller, Sustainability Program Coordinator
2016-2017
Student: Morgan Vought '17
Staff/Faculty: Fred Rogers, VP and Treasurer
2015-2016
Student: Emma Vinella-Brusher '16 and Shira Kaufman '16
Staff/Faculty: Kelly Scheuerman, Center for Civic & Community Engagement Pathways Coordinator
2014-2015
Student: Sarah Lukins '15
Staff/Faculty: Lynn Nichols, Custodial Administrative Assistant
2013-2014
Student (split): Anthony Hill-Abercrombie '14 and Jackson van Fleet '15
Staff/Faculty: Randy Peck
2012-2013
Student (split): Courtney Dufford '14 and Lindsay Guthrie '13
Staff/Faculty: Sue Caton
2011-2012
Student: Owen McMurtrey '12
Staff/Faculty (split): Patti Sabrowski and Chris Remley
2010-2011
Student (split): Ryan Noe '12 and Libby Nachman '12
Staff/Faulty: Gloria Heinz
2009-2010
Student: Ray McGaughey '11