President Poskanzer's Proviso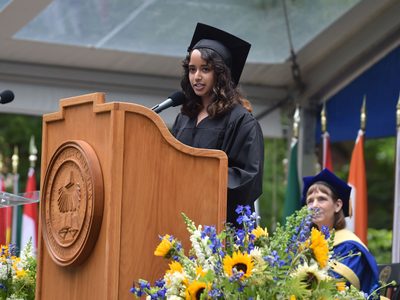 Tuesday, September 4th, 2018: it was a dark and stormy day — move-in day for the majority of us. I vividly remember looking at my sopping-wet, rained-on belongings on the sidewalk, and then taking a deep breath…and then making my family lug most of them into my Goodhue dorm room. I was busy, I had to go fix my hair for my OneCard photo that didn't quite turn out the way I expected it to. The rain made move-in day almost monotonous. Almost. We made do with a chaotic frisbee toss in the warm rec fieldhouse, followed by a promise from then President Steven Poskanzer. He said, and I quote:
"This class will graduate from Carleton feeling even better about your college choice than you do today—well I'm going to add a proviso to that promise because you really got shafted in terms of the weather here today and we are sorry about that. That graduation day in 2022 is going to be sunny and comfortable."
Well, thanks for the reassurance Stevie P.
I can't help but think about all that's happened at Carleton since that day. From the completion of Evelyn M. Anderson Hall, to the start of President Alison R. Byerly's tenure here, we've given and received so many Friday flowers, attended so many enriching convocations, felt the warmth of so many cups of hot chocolate from Sayles. Alternatively for the last few brave souls who remember, at the frigid start of 2019, we felt from Sayles the warmth of free broth. This is the last year it follows you, Dean Livingston, congratulations.
We've created so many memories we'll look back fondly upon. And so, this is the part when I'm supposed to tell you it's time to lift off, and take flight towards the next thing whether that's postgraduate education, the start of a career, or just figuring things out for the time being. But the thing about flying is it's easier said than done. Airplanes are complicated machines with a lot of moving parts: they need a fuel source, flaps and slats, the proper lift to drag ratio, elevators and stabilizers and ailerons, landing gear, not to mention people. I must admit, I don't really know what ailerons are, but what I do know is that when we are only preoccupied with the next destination we have to reach, the next goal we have to meet, the next, the next, the next, we take the marvel of flying for granted. And it would be an insult for me to stand here now and tell you to just go without acknowledging the fortitude it took us all to first garner the resources that this departure indeed requires.
Second week of college, there was a tornado that smashed in a couple of Goodhue windows. Second year of college, there was a pandemic that smashed our understanding of normalcy. This timeline doesn't even line up for members of our class here today who were originally class of 2021 but deferred graduation a year to adjust to the circumstances. Fifth years, or super seniors as we affectionately call them — we're glad you're graduating as part of our class. All of us have made sacrifices in order to adapt to the changes we saw on campus and in the broader world these past four years. And yet, here we all are now, ready for takeoff. And through it all, we've still found areas of study and hobbies that we are passionate about — things to fuel our souls. And the friends we've made along the way? Our flight crew. Okay, the word aileron is just delightful to say, can everyone say it with me once? Aileron! Ailerons then, must be all the joy we have found here these past four years.
And so, going back to President Poskanzer's proviso, he probably said that knowing that the weather conditions of today wouldn't matter. Rain or shine, we can still fly, because we have the resources we need thanks to all the flight engineers — the professors and administrative staff, the food service workers and custodians, the mentors and guardian angels who have helped us along the way. Class of 2022, congratulations, and when things around you seem to be up in the air, keep in mind that you were meant to soar. Thank you.