Training Ground
Hello, Class of 2022!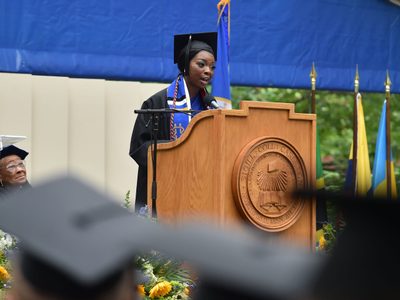 When I heard I got accepted into Carleton, I don't think I really understood what I was getting myself into. I knew I was leaving my family and friends, escaping the horrible Houston traffic, and depriving myself of the Honey Butter Chicken Biscuit Sandwich from Whataburger to come to a small town that prides itself on Cows, Contentment, and Tater Tot hot dishes. However, now that I am at the finish line, I have to say that I don't regret it one bit.
During my senior year of high school, one of my teachers went around asking students what colleges people were attending and when he got to me, I gladly shared with him that I have been accepted into Carleton as a Posse Scholar. To this day, I still remember the way my heart shattered into pieces when he told me that I "probably wouldn't make it through graduation because inner-city students like me usually drop out after their first year." I paused with a blank face and then laughed internally.
Now if you don't know one thing about Nigerians, what you should know is that we are stubborn. I remember thinking to myself that I will prove not only to him but to other inner-city students that they can indeed finish at a 4-year institution. Although young me felt so discouraged and unsupported, I remember making a promise to myself that I would not only trailblaze for my family but other students in my situation.
Now going back in time to my first month here, I remember being so excited because, for me, Carleton was so diverse in its own way. I have never gone to school with people outside of my race or socioeconomic background, so being immersed in a different atmosphere taught me how to view the world differently.
Surprisingly during my first year here, I was not afraid that I was the only Black female in almost all of my classes. I was afraid to see if I was academically prepared for the rigor to come. I knew that my positionality in the world would make me have to work 2 times harder than my counterparts. But I decided to take the challenge.
And I know my classmates had to take challenges on of their own:
For some of you, it was leaving your hometown and experiencing life outside of your normal or it was learning how to balance 3 rigorous classes with your extracurricular activities. For others, it was learning how to ask for help because you were used to figuring things out on your own.
For me, it was being brave enough to speak up in class and ask a classmate to rephrase their thoughts in simple terms, only to realize they didn't know what they were talking about themselves. (But at the end of the day, we were all just trying to figure things out.)
Reflecting over my four years, I quickly realized that Carleton is a training ground. The Admissions team did a phenomenal job with making sure they selected the quirkiest of quirky but also the best of the best. So, the feeling of being an imposter makes sense. There is a quote that states if you are the smartest person in the room, you are in the wrong room. I know some Carls are looking around and finally noticing that they are in the wrong place, haha, but others are now realizing that the feeling of not being good enough only pushes you to be your better self which will serve you well in your next destination.
We will no longer stress over finding which classes to take or what upperclassmen we can beg to draw us in with their great lottery number. Nor would we have to stay up late nights to finish our sophomore portfolios only to blink and realize you are in the middle of your comps. Because we will be on to greater things in this world.
This stress made me realize that trials and tribulations come to build our endurance. I think we can all agree that when life gives you hard times, all you need is a can of soup and a cup of warm apple cider to be okay.
I thank God for allowing Posse to give me a chance to show other inner-city students they can succeed. I thank my family, friends, mentors, and professors for pushing me along the way.
I also want to acknowledge people who work hard and labored in this system that wasn't intended for us to succeed. Congrats, you made it. Thank you to the parents who have sacrificed all they could for their children to be where they are today. It would not have been possible without y'all.
And most importantly, I thank the CLASS OF 2022 for teaching me that change starts with action.
So, whenever I become big in the film industry and you see my name on those movie credits, remember this piece of advice I gave you today. First, think of the stress you felt through COMPS and how it seemed as if you would never get through it. Then you suddenly wake up one day, and you are sitting at your graduation.
Remember, The next time you are stressing about the next big thing you have to do, just remind yourself to breathe and have fun while doing it because if there is one thing that we learned from this training ground — is that, you will get through it.