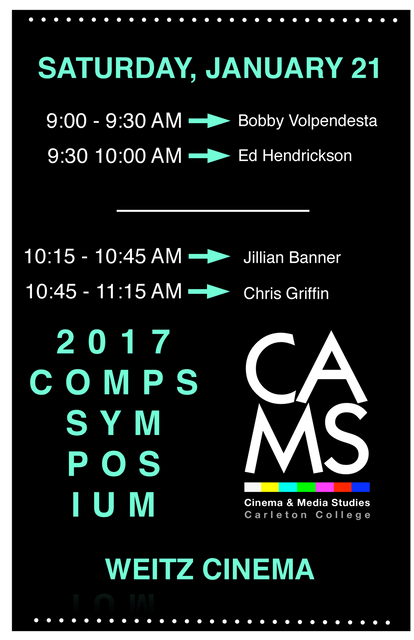 The CAMS community gathered in the Weitz Cinema on Saturday, January 21 for winter term CAMS comps symposium. Senior CAMS majors presenting their comps projects included Bobby Volpendesta, Ed Hendrickson, Jillian Banner, and Chris Griffin.
Bobby presented a documentary film called Licorice Beach, which tells the story of a first generation Muslim-American and the short-lived but heavily influential underground music and arts space he founded in Phillips, Minneapolis. Bobby Volpendesta's concentrations in Women's and Gender Studies and American Music informed his comps, as the Beach was part of the first generation of specifically designated "safe space" D.I.Y. venues in Minneapolis that aim to be inclusive and harassment-free.
Ed Hendrickson presented Turning a Colorblind Eye: The French New Wave's Representation of Africa and the Post-Colonial Reply based on his comps research paper. Curiously absent from the films of the French New Wave is recognition of the global project of decolonization. Although Independence was achieved for much of Francophone Africa in 1960, the auteurs of the Metropole contented themselves with questions of individual style and expression – a politics that ultimately blinded them to the ongoing French colonial violence. This presentation examined the hybrid relationship that formed between the New Wave and emerging African cinemas, a relationship that reflects carryovers of colonial ideology as well as stylized rejections thereof.
Jillian Banner presented Frontier, a documentary film about a retired bull rider, the younger bull rider who she mentors, and the barriers they both have faced as women in the world of rodeo. The film borrowed elements from the western genre in order to explore themes of gender and generational change in the United States.
Chris Griffin presented The Film of Tomorrow: Merging African and French Cinema and his short film Holy Water, which aims to merge two types of cinema – African Postcolonial Cinema and French New Wave Cinema. The film accomplishes this merge by combining African narrative components and theme with French aesthetics and theory; centered around a subject relevant to both cultures – religion.
Congratulations to our four presenters and thanks to attendees for the excellent questions. Special thanks to Farrah Pribyl for providing coffee and bagels and to Paul Bernhardt and CAMS Production Office showrunners Theresa, Fernando, Cisco, Ayana, Mo, Urmila, Leah, Renay, and Pilot for the seamless production values.
Stay tuned for details about winter term 2017 CAMS comps symposium; there will be twelve additional seniors presenting their projects!