The generosity of Carleton alums knows no bounds.  The CAMS community recently met with various alums willing to share their expertise, offer career advice, and engage in collective strategizing about how to create internship and other career opportunities for students.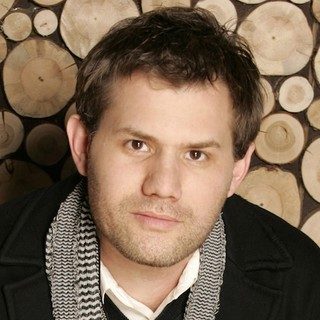 John Nein, Senior Programmer at the Sundance Film Festival, visited CAMS on April 9.  A Carleton alum who obtained an MFA in filmmaking from UCLA, Nein worked in the Hollywood film industry as writer, director, assistant director, production coordinator and crew member before joining Sundance in 2001, where he specializes in programming international films. Nein discussed the current challenges of distribution confronting independent filmmakers as well as the advantage of attending graduate film school for establishing one's unique voice as a filmmaker.
On April 14, Mary Stucky '77, Lyle Banks '77 and Mark Hunter '78 joined us for collective strategizing around connecting our students with internship and career opportunities in addition to discussing their own career paths since Carleton.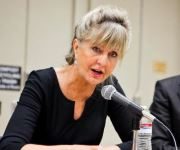 Co-founder of Round Earth Media, Mary Stucky is the lead journalist and president of the company. She has broad media experience as a long-time contributor to national shows on public and commercial radio and TV, including shows on National Public Radio, Public Radio International and America Public Media (e.g., Marketplace, The World, All Things Considered), CBS Radio, FRONTLINE/World, NBC-TV and ABC-TV affiliates, Telemundo, and Univision. In 2012, Stucky launched a ground-breaking program in Morocco, working one-on-one with college students who aspire to be the next generation of foreign correspondents.  This first-of-its-kind devoted to global journalism is in collaboration with SIT Study Abroad and is a finalist for a national award for innovation in international education. Stucky's reports on Chinese and Hmong immigrants were part of the documentary series "Crossing East," which won a 2006 Peabody Award, broadcasting's highest honor. Her reporting awards also include the New York Festival's Gold World Medal. Prior to founding Round Earth, Stucky was a reporter/anchor for the NBC-TV affiliate in Minneapolis.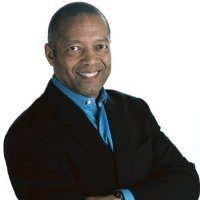 Lyle Banks is a disciplined and accomplished LIN Media and GE-trained executive and leader. He is currently the co-founder and Chairman of the Board of ICStories – a disruptive digital video organization with a compelling strategy to capture a portion of the $120 billion in local advertising generated by small and medium businesses nationwide.  From 1998 – 2010, Mr. Banks was the Chief Executive Officer of Banks Broadcasting, Inc., a Chicago-based multimedia broadcasting company formed with LIN Media, BofA Capital and 21st Century. Banks owned and operated television stations in Wichita, Kansas (KSCW-TV/CW) and Boise, Idaho (KNIN-TV/CW) and acquired and operated The Idaho International Film Festival in Boise, Idaho. From 1995 – 1998, Mr. Banks worked for the General Electric Company where he was President & General Manager of NBC subsidiary, WMAQ-TV in Chicago. Mr. Banks' News departments have won several Emmys and other prestigious awards from the Radio and Television News Directors Association (RTNDA), UPI and The Associated Press. During his career, Mr. Banks has also built Low Power and Full Power Stations, launched LMAs/JSAs, Local Cable Channels, nationally-syndicated programming, mobile applications and online content.

Mark Hunter, a Carleton College Multicultural Alumni Board Member, is an independent law professional (NY state and federal courts) with interdisciplinary competencies and interests. His practice includes commercial litigation, small corp./LLC/partnership advisement, transactional matters, and business and arts immigration petitions. He is a business owner (architectural concrete design and fabrication) and provides medico-legal training to emergency medicine residents and attendings. Mark is also a master humanities teacher, from Walpole Prison (Mass.) to PENN, and scholar (literature and law via a full ride National Mellon Fellowship in the Humanities). His philanthropy includes pro bono representation in an asylum and removal proceedings and extending educational opportunities to deserving and qualified students.