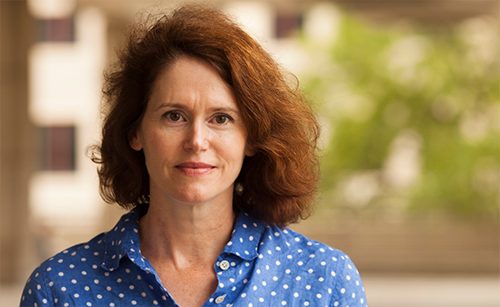 The French and CAMS departments recently invited Carleton alum Kelley Conway '86 to return to Carleton to give a talk based on her outstanding new book, Agnès Varda (University of Illlinois Press, 2015), which has been "highly recommended" by Choice Reviews. Conway is a professor of film studies at the University of Wisconsin-Madison.
In her well-attended talk, "Agnès Varda's Storytelling Strategies: The Travelogue, the Collage, the Database," Conway traced Varda's works from her 1954 debut La Pointe Courte through a varied career that includes nonfiction and fiction shorts and features, installation art, and the triumphant 2008 documentary The Beaches of Agnès. Drawing on Varda's archives and conversations with the filmmaker, Conway focused on the concrete details of how Varda makes films: a project's emergence, its development and the shifting forms of its screenplay, the search for financing, and the execution from casting through editing and exhibition. In the process, she departed from film history's traditional view of the French New Wave and revealed one artist's nontraditional trajectory through independent filmmaking. The result was an intimate consideration that revealed the artistic consistencies and bold changes in the career of one of the world's most exuberant and intriguing directors.
As a teacher and researcher, Conway is interested in French film of all eras, filmmakers' creative processes and their concrete working conditions, the relationships between film and other arts, and the theoretical and practical issues relating to national and transnational cinema. Her first book, Chanteuse in the City (University of California, 2004), examines the intersections between popular song and 1930s French cinema through the figure of the realist singer. Among the courses she teaches are French Film, European Art Cinema, Women and Film, and a month-long study abroad seminar in Paris.