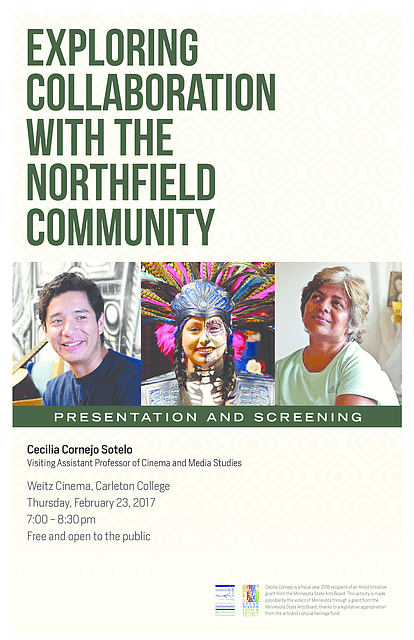 In 2012, CAMS visiting professor Cecilia Cornejo embarked on the Living Marginal project, a trilogy of films centered in Northfield that explores the experience of communities that are removed from the social, political, and geographic heart of the town. The first film in the trilogy, Make No Noise ~ The Story of a Skatepark (2016), chronicled the long struggle of local skateboarders to secure a permanent place for their sport. The second installment, Ways Of Being Home (2019), explores issues of displacement and marginalization as experienced by members of the Mexican community living in town.
Cornejo will show work-in-progress and talk about her experience collaborating with these two distinct Northfield communities on Thursday February 23, at 7pm in the Weitz cinema (in English), and on Sunday February 26, at 2pm in St. Dominic Church (in Spanish).
About the filmmaker
Cecilia Cornejo holds a Bachelor's degree in Communications Studies from The University of Iowa and a Master of Fine Arts degree in Film, Video, and New Media from the School of the Art Institute of Chicago. Her work, currently distributed by Women Make Movies, has shown locally and abroad at multiple venues. Cornejo is the recipient of a McKnight Established Artist Grant from the Southeastern Minnesota Arts Council, an Artist Initiative Grant from the Minnesota State Arts Board, and more recently, a Jerome Foundation Film, Video, and Digital Production Grant.