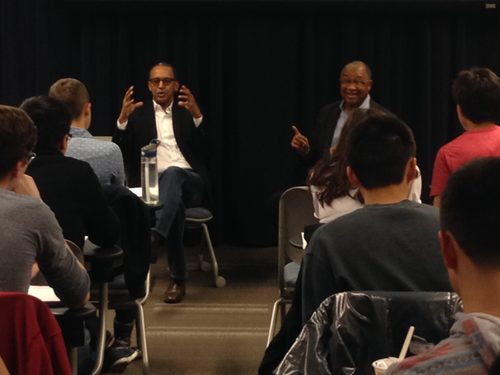 CAMS was honored to host filmmaker Abderrahmane Sissako for a screening of his masterful film Timbuktu and visit to Professor Jay Beck's CAMS 110 class on Friday, April 3. French Professor Cherif Keita invited Mr. Sissako to campus and served as translator during the class discussion.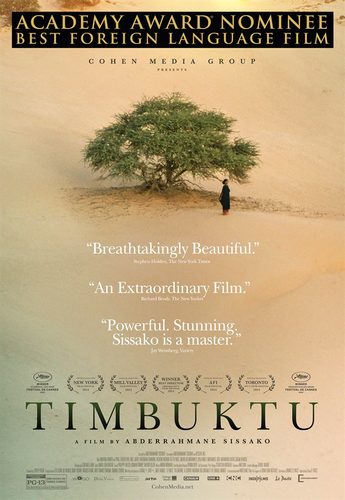 Mr. Sissako, who often works in Mali and France, is one of only a handful filmmakers from Sub-Saharan Africa to reach international influence. His themes include globalization, exile and displacement of people. Timbuktu was selected to compete for the Palme d'or at the 2014 Cannes Film Festival and is a 2015 Academy Award nomination for Best Foreign Film.
Asked about the inspiration for Timbuktu, Mr. Sissako explained: "On July 29th, 2012 in Aguelhok, a small city in northern Mali – more than half of which was being occupied by men who were mostly outsiders – an unspeakable crime took place to which the media largely turned a blind eye. A thirty-something couple, blessed with two children, were stoned to death. Their crime: they weren't married. The video of their killing, which was posted online by the perpetrators, is horrid. The woman dies struck by the first stone, while the man lets out a hollow rasp of a cry. Then silence. Soon after they were dug up only to be buried further away. Aguelhok is not Damascus, nor Tehran. So nothing is said about all this. What I say is unbearable, I know this. I am in no way trying to use shock value to promote a film. I can't say I didn't know and, now that I do, I must testify in the hopes that no child will ever again have to learn their parents died because they loved each other."
After screening and discussing the film, the CAMS community agreed that Timbuktu is destined to become a world film classic and regular part of the CAMS curriculum.