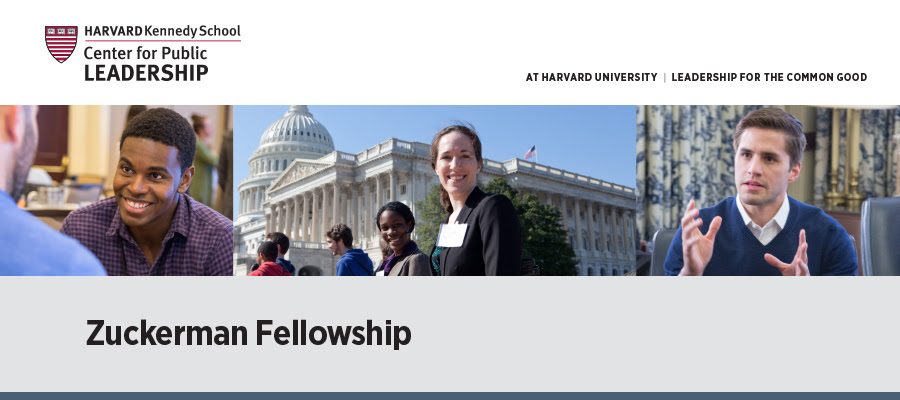 The Center for Public Leadership at Harvard Kennedy School is recruiting its next cohort of Zuckerman Fellows for the 2020-2021 academic year and I am writing to ask for your help identifying candidates.

The Zuckerman Fellowship is designed to forge interdisciplinary leaders capable of solving deep-rooted public policy challenges across the sectors of business, government, and civil society. It enables students who already holding or are working toward degrees in business, law, or medicine, to also obtain a master's degree from Harvard Kennedy School, Harvard Graduate School of Education, or Harvard T.H. Chan School of Public Health. Students must be United States citizens or legal permanent residents to qualify for the Zuckerman Fellowship.

The application deadline is Monday, February 3, 2020 for students applying through the Harvard Kennedy School.
The Zuckerman Fellowship provides recipients with full tuition and health insurance fees for one year plus a living stipend, but the value proposition of the Zuckerman Fellowship extends well beyond financial support: fellows participate in an intensive leadership development program designed by the Center for Public Leadership including experiential learning opportunities; faculty and practitioner-led seminars on core leadership competencies; a renowned speaker series; and service opportunities to help them gain applied leadership skills, enrich their academic experience, and build lasting ties that help them become powerful forces for change.
To apply for the 2020-2021 academic year, students must complete two steps:
Please circulate this announcement to any relevant individuals, groups, and lists. If you—or anyone interested in applying—have any questions, please contact me at brandon_ward@hks.harvard.edu or (617) 496-2772.