The Chaplain's Office hosts weekly worship services and special religious holiday celebrations representing a variety of faiths. We also sponsor discussion, meditation, and prayer groups, social events, service projects, lectures, and interfaith dialogue.
Mustard Seed Praise Band, October 19, 2008
#7 of 7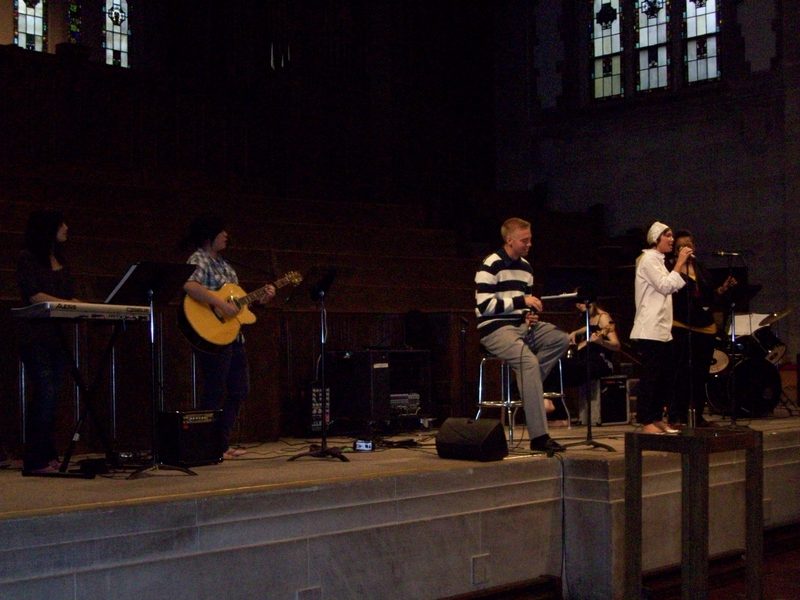 Mustard Seed Chapel Service, October 19, 2008
19 October 2008
Day of the Dead Celebration
The Dia de los Muertos (Day of the Dead) celebration was held in Great Space on Sunday, November 2 and included a performance by the Centro Campesino Aztec Dancers and music by the St. Dominic Spanish Choir.
Students decorated a traditional altar, read poetry, witnessed to the dearly departed, and enjoyed traditional Day of the Dead bread and refreshments. Cosponsors who made this celebration possible were Latin American Studies, LASO, and the Office of the Chaplain.
Diwali Celebration
The Office of the Chaplain and DESI celebrated Diwali (Hindu Festival of Lights) on October 25, 2008 in Carleton College's Great Hall. Guests enjoyed dinner, cultural performances, and worship led by Dr. Anantanand Rambachan.