As a way to commemorate students who lost their lives while enrolled at Carleton, a memorial sculpture has been installed on campus.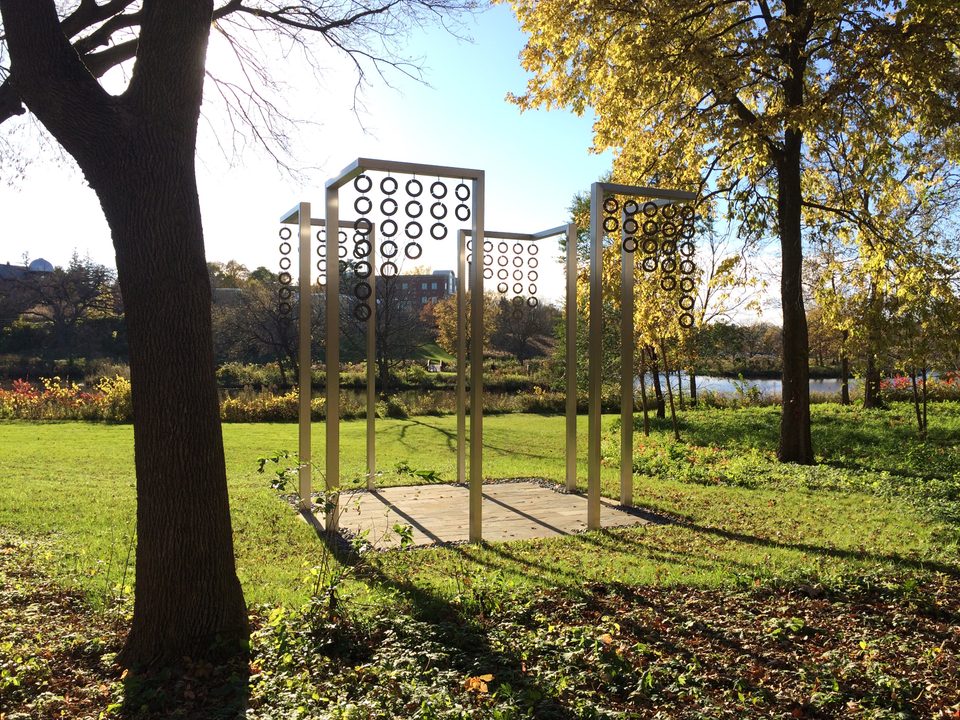 Inspired by the mission of the College "to be a collaborative community where quiet reflection and active engagement are valued as sources of self-understanding and renewal," the Student Memorial was thoughtfully designed by Tom Oslund of O2 Design. Its 15-foot-high steel structure displays the name and class year of each student engraved on six-inch cast bronze broken circles, hung randomly, linked together, and suspended from the top of the frame. The height of the frame allows the wind to move the strands to create audible chimes and the sunlight to illuminate the broken circles in varying patterns. The memorial is on the east side of Lower Lyman Lake, providing a natural setting for peaceful reflection.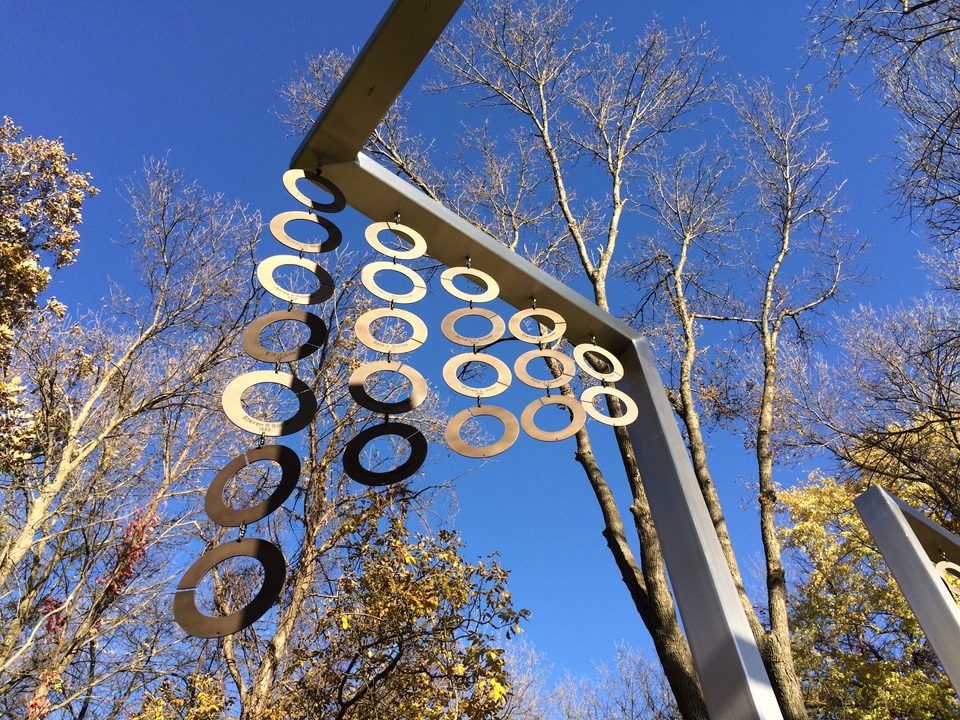 Each member of our community has in some way shaped the College's history and touched the lives of their fellow Carls. The College respectfully honors these students' legacies with the Carleton Student Memorial.
The following list of students honored in the Student Memorial includes the location (corner of the memorial structure) where their name can be found.
| Name | Class Year | Corner |
| --- | --- | --- |
| James P. Adams | 2015 | NW |
| Fred R. Armstrong | 1883 | SW |
| Helen A. Arntson | 1923 | NW |
| Margaret G. Asp | 1977 | NE |
| Charles J. Barnard | 1883 | NE |
| John C. Barnds | 1975 | NW |
| Lilly J. Barteau | 1884 | SE |
| Matthew J. Bartlett | 2003 | NW |
| John Benedict | 1945 | NW |
| Jennifer A. Bonner | 1989 | NE |
| Beth A. Brinda | 2006 | NW |
| Zachery T. Brokaw | 2018 | NW |
| Gerald R. Brown | 1951 | SE |
| John F. Bundy | 1946 | SW |
| John S. Burchmore, Jr. | 1944 | SE |
| Elsie M. Canfield | 1898 | SW |
| Wendell R. Carlson | 1918 | SE |
| James Carmichael | 1884 | SW |
| Harry G. Chase | 1945 | SE |
| Dixon P. Connolly | 1942 | NE |
| John S. Craig | 1944 | SE |
| Edward F. Crandall | 1942 | SE |
| Charles H. Emmons | 1884 | SE |
| Colin M. Ewers | 2004 | NE |
| Irving Farley | 1945 | NE |
| George A. Fetter | 1944 | SW |
| Cora Finstad | 1879 | SE |
| Robert W. Foster | 1946 | SW |
| Abigail A. Furniss | 1975 | SW |
| Michael D. Goodgame | 2015 | NW |
| Gary J. Gregerson | 1963 | NE |
| Frederick W. Greve III | 1940 | SE |
| R. Harold Grove | 1933 | SW |
| John T. Guckin Jr. | 2014 | SE |
| Peter J. Handley | 1945 | NW |
| Annabel Harries | 1896 | NW |
| Paxton M. Harvieux | 2015 | SW |
| James M. Hellmuth | 1965 | NE |
| Willard J. Humphreys | 1947 | NW |
| Leonard C. Isenberg | 1941 | SW |
| Richard M. Jenkins | 1972 | SW |
| Robert P. Johnson | 1944 | SW |
| Charles L. Joy | 1917 | SE |
| James M. Kelly | 1945 | NE |
| Burt Krayenbuhl | 1937 | SE |
| Sigrid E. Larsen | 1961 | SW |
| C. Walter Larson | 1920 | NW |
| Scott S. Levin | 1972 | NE |
| Eleanor S. Lewis | 1920 | SE |
| Charles C. Liscomb | 1941 | NW |
| Etta J. Low | 1897 | NW |
| Frank J. Manz, Jr. | 1941 | SW |
| Charles D. Matteson | 1934 | NE |
| Fergus Mead, Jr. | 1945 | SW |
| Hsiang Y. Meng | 1957 | NW |
| Zachary D. Mitchell | 2017 | NW |
| Edward H. Mullin | 2007 | NE |
| Robert E. Nason | 1931 | NE |
| Richard W. Oihus | 1966 | NW |
| Ann E. Oliver | 1994 | SE |
| Thomas W. Osterholm | 1934 | NE |
| Alan P. Ostrow | 1985 | SE |
| Wilton K. Park | 2000 | SW |
| David W. Parks | 1982 | SE |
| Dorothy Penning | 1948 | NE |
| Aidan Price | 2024 | NE |
| Sidharth Ramakrishnan | 2019 | SE |
| Samuel C. D. Ray | 1987 | SE |
| Thad D. Reed | 1943 | NE |
| Walter B. Root | 1944 | NE |
| John A. Sandeen | 1932 | NE |
| Judith A. Schomburg | 1988 | NE |
| Megan Serota-Winston | 1998 | SW |
| Wardeen H. Sharpe | 1923 | NW |
| Frank Shigemura | 1945 | SE |
| Steven F. Smith | 1968 | NW |
| Kristi E. Snowden | 1993 | NW |
| Michael L. Stam | 1989 | NW |
| Ellen R. Steif | 1977 | SW |
| Edwin J. Stensrud | 1911 | NE |
| George Tandberg | 1915 | SW |
| Evelyn A. Thomson | 1932 | SE |
| Luigi Trenti-Paroli | 2018 | NW |
| Frank G. Uerling | 1944 | SW |
| Thomas A. Veblen Jr. | 1885 | SE |
| Marc A. von Trapp | 2000 | SW |
| Lillian J. Waluconis | 2006 | NW |
| John H. Watson | 1921 | NE |
| Gordon C. Welshons, Jr. | 1950 | SW |
| Karen J. Wolf | 1975 | SW |
| Steven B. Wood | 1974 | SE |