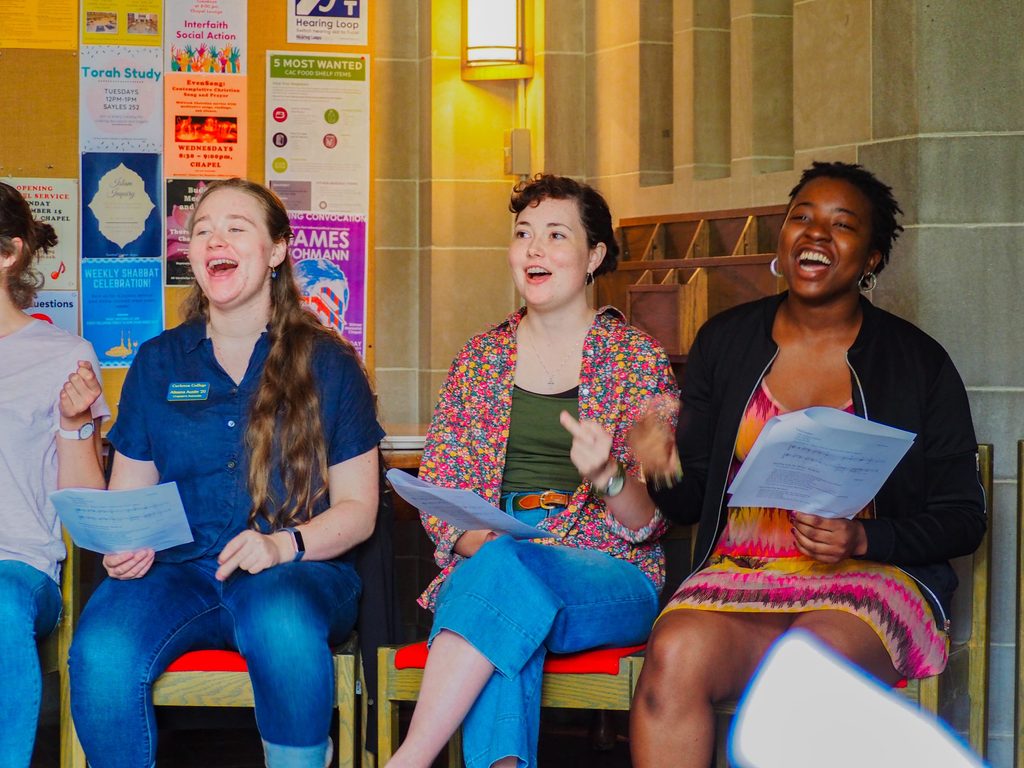 Welcome to the Office of the Chaplain! View the list of frequently asked questions that we often hear at the Chapel.
We know religion inspires a lot of questions, conversations, and emotions. We hope that some of the answers below help explain what the Chapel does, what we believe, how we understand religion and spirituality, and why we see it as our mission to serve people of all different backgrounds and beliefs.
Should you have any further questions or like to discuss anything in a deeper way, please contact us!
---
I'm excited to learn more about the chapel and get involved! What should I do?
We are so glad! First, know that regardless of your faith background or beliefs, you are welcome at any of our programs, groups, and events (you can find a list of student groups and our calendar of events).
We'd also recommend signing up for the Chaplain's Office Weekly Email/Newsletter, which has the most up-to-date info on the happenings at the Chapel (Click "join group" to opt-in to receive the newsletter in your inbox). If you want a printable schedule, you can pick one up at the Chapel or print the schedule PDF.
Finally, you are always encouraged to schedule a meeting with one of our chaplains. It's a great way to connect with us, let us learn a little about you, and explore any questions you might be having. You are always welcome to email or call us with any questions or concerns too.
Thanks for your interest and we hope to see you soon!
Why would I go to the chapel or one of its programs?
Good question! At its most fundamental, the chapel is here to support you in wrestling with what it means to be human, with all its questions, struggles, and joys. We are here for you as you strive to become the person you wish to be, providing services, resources, counseling, and connections.
No matter who you are or what you believe, we all want our lives to have meaning and purpose. We want to understand ourselves and the world around us and where we fit in. We struggle with questions of belonging and freedom, of identity and how we should act and be. We experience loneliness and grief, we yearn to love and be loved, and we hope for a better future. No matter who we are, we long for wholeness and healing, for justice in the world and in our communities, and to feel safe.
We believe that religion and spirituality are grounded in these human experiences. They are one profound way we strive to understand and live through them.
We are here to be with you in your journey at Carleton and support you seeking a life of deeper meaning and wholeness and joy. We are here no matter who you are or where your journey is taking you.
Is the chapel only for religious people?
Nope! The chapel is for everyone. People of faith are highly engaged, of course, but the chapel is full of many who don't consider themselves religious or might not otherwise participate in formal religious community. These include atheists, agnostics, humanists, seekers, and spiritual but not religious folks.
The chapel is for all those pursuing a meaningful life, who wonder about their purpose and about where they belong and how they fit in. It is for those wrestling with what is good and ethical, and those with more questions than answers. It is for anyone interested in learning and growing, in better understanding themselves and the ways that we can find more happiness, love, and peace. It is for those who feel heartbroken, isolated, or yearn for community, and for those who are outraged at the injustices of the world and want to change it.
For many, these human experiences find expression and answers in a particular religious tradition. For many others, it is a journey that draws from many sources of inspiration and wisdom. The chapel is here for you no matter what path you find yourself on.
Is the chapel only for students?
The chapel proudly serves students but also serves staff, faculty, alumni, and parents. Everyone in the Carleton community is welcome to participate in chapel programs or speak with a chaplain.
Is the chapel welcoming to people who are queer and LGBTQIA+?
Yes! The chapel is unequivocally supportive and welcoming of those who are queer and LGBTQIA+. Discrimination and exclusion are not tolerated in any chapel program, group, or service. Indeed, we celebrate and honor the diversity of our identities and understand them as a pathway to deeper truth, wholeness, and faithfulness.
Typically, multiple members of our chapel team identify as queer, the chapel has led services honoring Trans Days of Remembrance and Visibility, as well as National Coming Out Day, and one of our chaplains was even on a drag reality show.
Queer students and allies are especially welcome to participate in Queer Spiritz, a group designed to explore the intersection of spirituality and queerness.
What can I talk with a chaplain about?
Anything really! Our team of chaplains are here to talk through religious and spiritual questions, but also to simply listen if you need to talk and provide resources that might be helpful. Maybe school or your job is feeling overwhelming, maybe a relationship has ended, maybe your family of origin is causing you stress, maybe someone has crossed a boundary or caused you harm. No matter what you want to talk about, our chaplains are here to care and support you without judgement.
Along with the counselors at Student Health and Counseling (SHAC) services, anything you share with a chaplain is completely confidential. Staff and faculty are also welcome to speak with a chaplain anytime!
The religious tradition I practice doesn't seem to have a group at Carleton. What should I do?
The first thing to do is speak to a chaplain and let them know. They may be aware of others of your tradition on campus that might be interested in forming a group or practicing together. Alternatively, there may be communities outside of Carleton that we can help you connect with. We are here to explore the options with you and hopefully find some paths forward.
The chapel looks and sounds like a Christian church. Is it?
The Office of the Chaplain serves many Christians, holding a wide array of services and opportunities to deepen in the Christian faith. However, the chapel, and Carleton more broadly, is pluralistic and multi-faith, honoring all religious traditions equally.
We work hard to make the chapel feel like home regardless of a person's faith background or belief. Within our building lies a Muslim prayer room, a joint Buddhist/Hindu meditation space, and a small chapel shared by Catholic and Episcopalian groups. Naturalistic banners depicting the seasons and earth hang in the main sanctuary, and our library offers reading material covering the breadth of the world's religions.
Carleton was founded as a congregationalist college, a tradition reflected in the English Neo-gothic design of Skinner Memorial Chapel. Later, cooperative arrangements would form with Baptist and Episcopalian denominations. Yet today, no relationship remains between these denominations and the college — beyond a mutual appreciation of a shared past.